Market Snapshot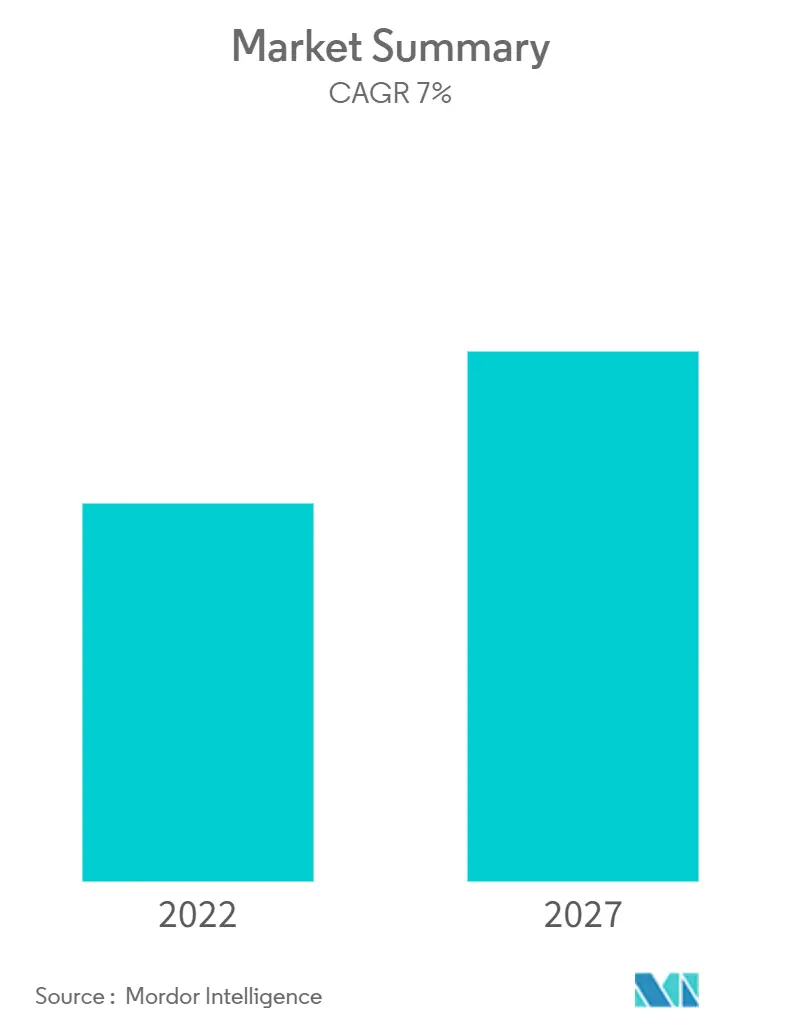 Study Period:
2018 -2027
Base Year:
2021
Fastest Growing Market:
Asia-Pacific
Largest Market:
North America
CAGR:

>

7 %
Need a report that reflects how COVID-19 has impacted this market and its growth?
Market Overview
The unmanned aerial vehicles market is expected to register a CAGR of over 7% during the forecast period (2022-2027).
The UAV market experienced a moderate impact due to the COVID-19 outbreak. The relocation in the budget of countries toward developing medical infrastructure has limited the defense budget expenditure toward research, development, and acquisition of deep tech products. However, the segments under the civil and commercial division may witness stable growth. Countries worldwide are exploring ways to use unmanned aerial vehicles (UAV) to deliver vaccines, supporting business demand. In August 2021, the United States launched the COVID-19 vaccine drone delivery program. The program is managed by UPS and operated by North Carolina-based health systems. Similarly, the Union Minister of India announced integrating a drone delivery system to deliver COVID-19 vaccines and medicines and collect blood samples. Such initiatives may ramp up the requirement of unmanned aerial vehicles during the forecast period.
The growing realization of UAV deployment in military operations has encouraged vendors to offer UAVs that can be used in numerous commercial applications. UAVs are also being adopted in other applications, including internet provision in remote places, aerial photography and video recording, survey and document wildlife, and public service missions. Several companies primarily offer small-UAVs used in agricultural and aerial photography and data collection applications. In the military domain, unmanned combat aerial vehicles (UCAVs) are considered low-cost alternatives to combat aircraft. They also provide less collateral damage than missiles or aerial bombing deployed from manned aircraft. However, the growth of the UAV market can be hindered by technological and legal constraints, such as limited endurance, SWaP and bandwidth challenges, and the presence of non-uniform laws and regulations that can restrict the usage of such systems in the airspace of certain countries.
The supply chain within the OEMs worldwide and their subsidiaries play a vital role in governing the business dynamics of the unmanned aerial vehicles (UAV) market. The COVID-19 outbreak had a notable impact on the supply chain, leading to business disruption. Companies located in Asia-Pacific and Latin America are more vulnerable and envisioned to face operational constraints and high financial risk exposure due to supply chain bottlenecks. The nature of the supply chain and resourcing patterns of the defense technology industry base (DTIB) may also affect production, as production queues with branched-out supply chains are more likely to face supply-side constraints. However, it is a short-term challenge that will be eliminated with new operational infrastructure. Higher demand and lower production costs in this region compared to North America and Europe may allow them to witness a higher CAGR during the forecast period of 2022-2027.
Scope of the Report
Unmanned aerial vehicles (UAVs) are pilotless platforms that can be remotely controlled by a human operator or navigated autonomously by a programmed onboard computer. UAVs provide the tremendous potential to transform urban and rural infrastructure and enhance agricultural productivity in developing countries. The unmanned aerial vehicles market is segmented by UAV size, type, range, application, and geography.
By UAV size, the market is segmented into small UAV, medium UAV, and large UAV. By application, the market is segmented into military, and civil and commercial. Small UAVs are UAVs with a maximum gross take-off weight (MGTOW) of about 20 lbs, medium UAVs have an MGTOW of 21-55 lbs, and large UAVs have an MGTOW of more than 55 lbs.
The market is also segmented by type into fixed-wing and VTOL. The fixed-wing UAV includes high-altitude long-endurance (HALE) UAV, medium-altitude long-endurance UAV, and tactical UAVs. The VTOL (vertical take-off and landing) UAVs include single- and multi-rotor UAVs.
By range, the market is segmented into Visual Range of Sight (VLOS) and Beyond Visual Line of Sight (BVLOS).
By application, the market is segmented into military and commercial. The military segment is sub-segmented into combat and non-combat UAVs. The commercial segment is sub-segmented into agriculture, construction and mining, inspection and monitoring, delivery, law enforcement, first responders, and other applications (entertainment, recreation, and monitoring of aircraft hangars).
The report also covers the market size and forecast in major countries across the various regions. For each segment, the market sizing and forecast have been represented by value (USD billion).
UAV Size
Small UAV
Medium UAV
Large UAV
Type
Fixed-wing (MALE, HALE, TUAV)
VTOL (Single Rotor, Multi Rotor)
Range
Visual Range of Sight (VLOS)
Beyond Visual Line of Sight (BVLOS)
Application

Military
Combat
Non-Combat (Cargo Delivery, ISR, and Battle Damage Management)

Civil and Commercial
Agriculture
Construction and Mining
Inspection and Monitoring
Delivery
Law Enforcement and First Responders
Other Applications
Geography

North America
United States
Canada

Europe
United Kingdom
France
Germany
Ukraine
Rest of Europe

Asia-Pacific
China
India
Japan
South Korea
Malaysia
Philippines
Indonesia
Rest of Asia-Pacific

Latin America
Mexico
Brazil
Argentina
Colombia
Rest of Latin America

Middle-East and Africa
Saudi Arabia
United Arab Emirates
Turkey
Israel
Egypt
Rest of Middle-East and Africa
Key Market Trends
The Civil and Commercial Segment is Expected to Dominate the Market During the Forecast Period
The commercial drone sector witnessed high growth with numerous technological innovations. Miniaturization and COTS technologies are providing low-cost products for even the smallest UAVs in the market, leading to a procurement spree of mini- and micro UAVs by commercial operators. The vendors primarily offer small UAVs for agricultural, aerial photography, and data collection applications. Full-sized UAVs, such as the Chinese CH-4, are also deployed for geological surveying, ocean monitoring, meteorological observation, and forest fire prevention missions. Home deliveries via drones have become a reality due to the efforts of logistics and retail companies, such as Amazon and UPS, toward rolling out the technology. As commercial drones can travel at up to 100 mph and deliver goods under 5 lbs (2.3 kg), the delivery mechanism is expected to decrease the delivery time and associated costs. To prepare the ground rules that will allow the flight of the delivery drones and other commercial unmanned craft, the FAA has put forward recommendations for the governance of delivery drones, including requirements that all delivery drones need to be equipped with tracking hardware that will allow each delivery copter to be identified. Operators will also be required to furnish details on the technology used to track and relay instructions to the drones. Other recommendations include airspace management rules, such as permissible operational height below 2,500 feet, away from airports, sports events, and landmarks, and a "Trusted Operator System" that will exempt some commercial drone operators that use the craft for security and surveillance. To enhance the performance parameters of commercial UAVs, manufacturers are adopting alternative power sources for attaining long-duration flights. Technology giants, such as Google and Facebook, have acquired firms, such as Titan Aerospace and Ascenta, respectively, to facilitate the development of UAV technologies and create a worldwide network that can offer internet access in rural areas. Such developments are anticipated to drive the adoption of UAVs by civil and commercial end-users.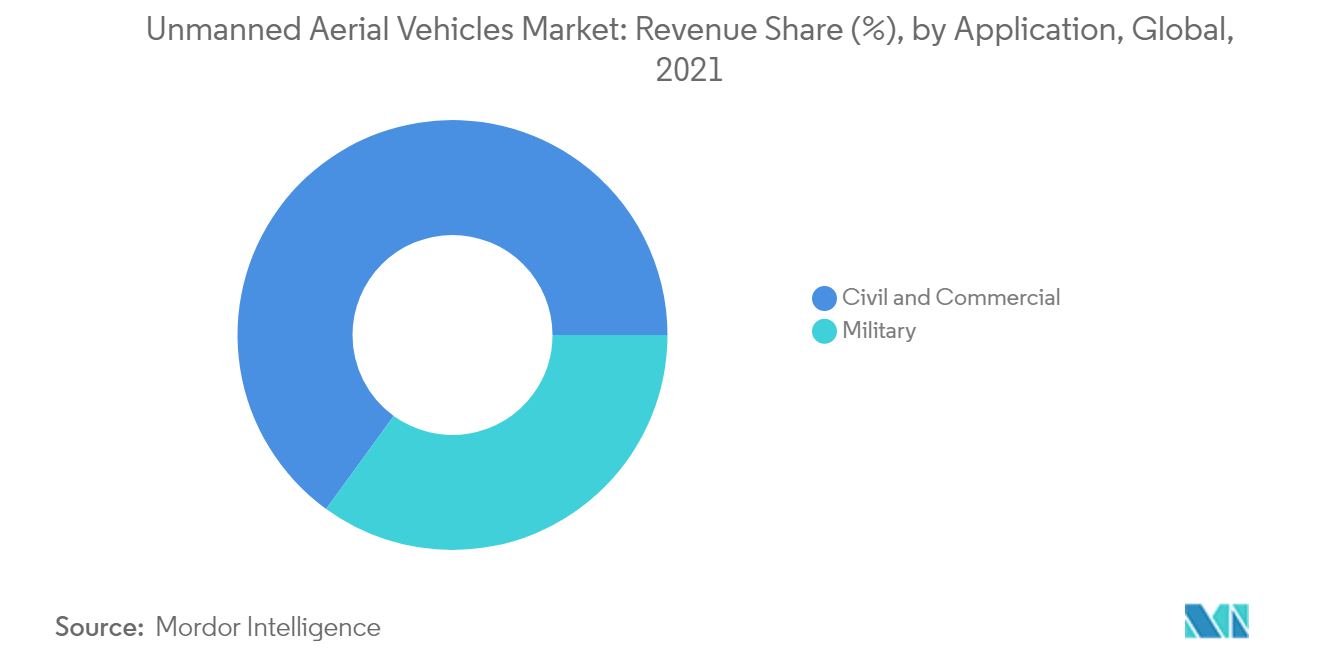 To understand key trends, Download Sample Report
Asia-Pacific to Witness the Highest Growth During the Forecast Period
During the forecast period, Asia-Pacific is expected to witness the highest growth rate due to the expansion of defense capabilities in key countries, such as China, India, Japan, and South Korea. The paradigm shift in favor of unmanned systems reflects the military's general tendency to be at par with the most advanced technology available and perceptions of the emergence of asymmetrical warfare. The development of home-grown UAVs is likely to increase due to the rising initiatives for indigenous aerospace platforms, which may significantly boost the UAV market in Asia-Pacific. The increased number of initiatives undertaken by OEMs toward indigenous development in the field of UAVs is expected to boost the adoption rate of the technology through easier access to low-cost UAVs. The technology is expected to have significant implications for many industries, ranging from public safety to farming automation, from disaster relief to infrastructure maintenance. Countries such as China, India, and Pakistan have been upgrading their respective inventories of military UAVs. Collaborative efforts by dominant market players are underway in the association of government bodies to capture the high growth potential of the market.
Integration of unmanned vehicles in manned combat operations has allowed players to explore novel business opportunities within the military segment. In November 2021, China's People's Liberation Army announced its plans to execute joint manned and unmanned aerial operations. The government plans to use indigenously manufactured J-20 fighter jet aircraft with four drones in a tandem strategy for the trial basis. These operations will notably improve the country's aerial military and operational capabilities, such as surveillance, search, rescue, and close combat.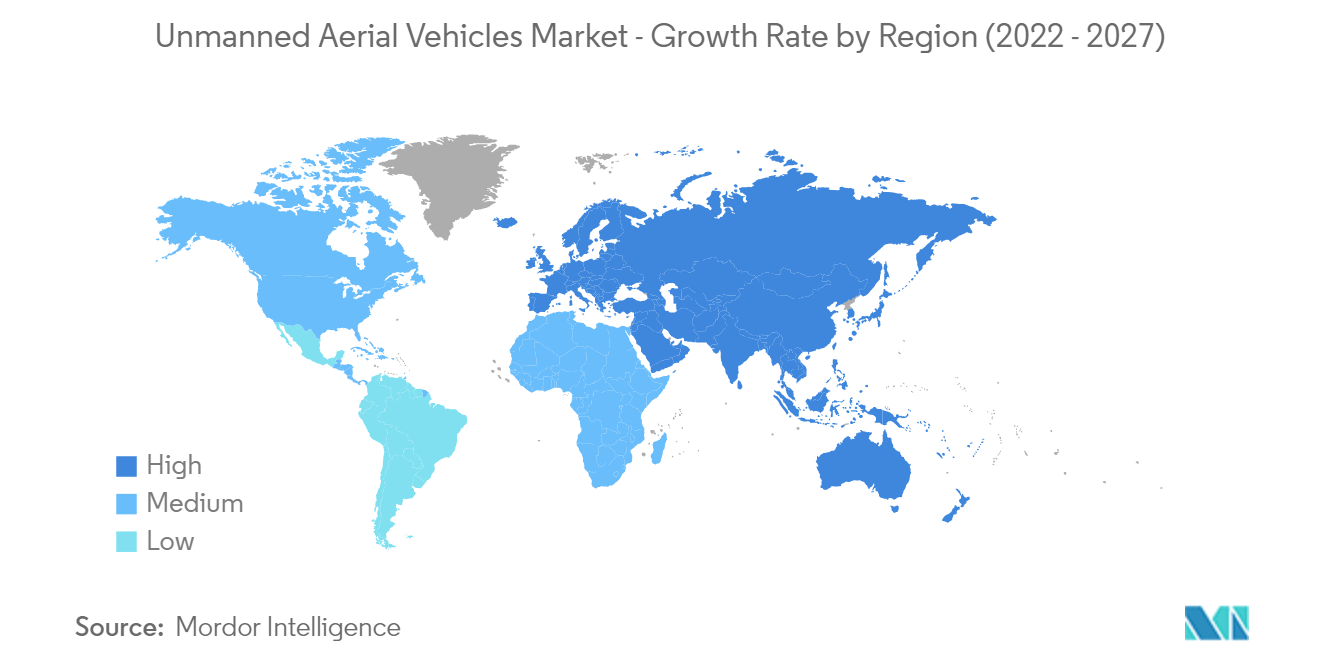 To understand geography trends, Download Sample Report
Competitive Landscape
Thales Group, Elbit Systems Ltd, Israel Aerospace Industries Ltd, Northrop Grumman Corporation, and BAE Systems PLC are the largest players in the market studied. The unmanned aerial vehicles market is highly competitive, with many prominent players competing for a larger market share. The stringent safety and regulatory policies in the defense and homeland security segment are expected to restrict the entry of new players. However, the commercial and civil segment is expected to witness rapid growth due to the entry of many players, as the segment is not governed by economies of scale. Companies with superior technical capabilities are expected to contribute significantly toward technological advances in the propulsion systems and payload characteristics of UAVs, resulting in a shorter development cycle time and significantly augmenting the operational capabilities of mini-UAVs. Since the payload, endurance, and flight range of a UAV platform are the primary concerns of OEMs and operators, the emergence of alternative fuel-powered UAVs is expected to cause significant changes in the competitive scenario. The use of composite-based materials for the construction of critical components and parts of UAVs may increase the capabilities of the UAV platforms and fuel their widespread adoption across different industries.
Recent Developments
In January 2022, Iris Automation, Doosan Mobility Innovation (DMI), and Drone America agreed to use Doosan's hydrogen fuel cell technology to explore feasibility and opportunities for long-range autonomous unmanned aerial vehicles (UAV). The companies will collaboratively use their resources and expertise to test and evaluate drones' operational safety, platforms, and infrastructure requirement for commercial applications. The Iris Automation will provide its Casia detect-and-avoid (DAA) system, whereas Drone America will focus on the design and manufacturing of unmanned aerial vehicles.
In December 2021, the US Navy and Boeing initiated the testing phase of the MQ-25 T1 test asset, an unmanned aerial refueler. The first test was successful, ensuring possible future integration of unmanned vehicles for refueling purposes in military operations.
In November 2021, US unmanned aerial vehicle developers Area-I and Anduril announced that they have introduced the newest and largest-yet member of the ALTIUS family of air launched UAVs with the launch of ALTIUS 700. According to the companies, the ALTIUS-700 carries 300% more payload compared to the ALTIUS 600 and has a flight of up to five hours, depending on payloads, which are customizable and include ISR, cUAS, electronic warfare, munitions and signals intelligence.
In September 2021, Kaman Corporation unveiled the KARGO UAV, the newest addition to its family of purpose-built, autonomous unmanned systems. The UAV is purpose-built to provide deployed soldiers with autonomous resupply in the lethal, fluid combat environments as well as for regular logistics missions.
In September 2021, India and the United States signed an agreement to develop air-launched UAVs (ALUAV). The pact outlines the collaboration between the Air Force Research Laboratory, Indian Air Force, and Defence Research and Development Organisation toward design, development, demonstration, testing, and evaluation of systems to co-develop an ALUAV prototype. The project aims to promote collaborative technology exchange and create opportunities for co-production and co-development of future technologies for Indian and US military forces.
In March 2021, the Indian Armed Forces announced its plan to procure 30 armed versions of the Sea Guardian UAVs worth USD 3 billion from the US DoD. As per the proposed terms of the deal, India will be acquiring 10 units of MQ-9 Reaper UAV each for the three services of the Indian Armed Forces: the Army, Navy, and Air Force.
In January 2021, China's indigenous high-altitude, long-endurance, and high-speed armed reconnaissance UAV (WJ-700) underwent test flights and successfully created a new pattern for drone combat. The WJ-700 is the only high-altitude, high-speed, and long-endurance drone capable of executing attack and reconnaissance missions in China. It can deliver diverse combat missions in high-threat battlefield environments with its precision combat and wide-area reconnaissance and surveillance capabilities.
Table of Contents
1. INTRODUCTION

1.1 Study Assumptions

1.2 Scope of the Study

1.3 Currency Conversion Rates for USD

2. RESEARCH METHODOLOGY

3. EXECUTIVE SUMMARY

3.1 Market Size and Forecast, Global, 2018 - 2027

3.2 Market Share by UAV Size, 2021

3.3 Market Share by Type, 2021

3.4 Market Share by Range, 2021

3.5 Market Share by Application, 2021

3.6 Structure of the Market and Key Participants

3.7 Market Drivers and Restraints

3.8 Expert Opinion on Unmanned Aerial Vehicles Market

4. MARKET DYNAMICS

4.1 Market Overview

4.2 Market Drivers

4.3 Market Restraints

4.4 Technology Trends

4.5 Porter's Five Forces Analysis

4.5.1 Bargaining Power of Buyers/Consumers

4.5.2 Bargaining Power of Suppliers

4.5.3 Threat of New Entrants

4.5.4 Threat of Substitute Products

4.5.5 Intensity of Competitive Rivalry

5. MARKET SEGMENTATION (Market Size and Forecast by Value - USD billion, 2018 - 2027)

5.1 UAV Size

5.1.1 Small UAV

5.1.2 Medium UAV

5.1.3 Large UAV

5.2 Type

5.2.1 Fixed-wing (MALE, HALE, TUAV)

5.2.2 VTOL (Single Rotor, Multi Rotor)

5.3 Range

5.3.1 Visual Range of Sight (VLOS)

5.3.2 Beyond Visual Line of Sight (BVLOS)

5.4 Application

5.4.1 Military

5.4.1.1 Combat

5.4.1.2 Non-Combat (Cargo Delivery, ISR, and Battle Damage Management)

5.4.2 Civil and Commercial

5.4.2.1 Agriculture

5.4.2.2 Construction and Mining

5.4.2.3 Inspection and Monitoring

5.4.2.4 Delivery

5.4.2.5 Law Enforcement and First Responders

5.4.2.6 Other Applications

5.5 Geography

5.5.1 North America

5.5.1.1 United States

5.5.1.2 Canada

5.5.2 Europe

5.5.2.1 United Kingdom

5.5.2.2 France

5.5.2.3 Germany

5.5.2.4 Ukraine

5.5.2.5 Rest of Europe

5.5.3 Asia-Pacific

5.5.3.1 China

5.5.3.2 India

5.5.3.3 Japan

5.5.3.4 South Korea

5.5.3.5 Malaysia

5.5.3.6 Philippines

5.5.3.7 Indonesia

5.5.3.8 Rest of Asia-Pacific

5.5.4 Latin America

5.5.4.1 Mexico

5.5.4.2 Brazil

5.5.4.3 Argentina

5.5.4.4 Colombia

5.5.4.5 Rest of Latin America

5.5.5 Middle-East and Africa

5.5.5.1 Saudi Arabia

5.5.5.2 United Arab Emirates

5.5.5.3 Turkey

5.5.5.4 Israel

5.5.5.5 Egypt

5.5.5.6 Rest of Middle-East and Africa

6. COMPETITIVE LANDSCAPE

6.1 Vendor Market Share

6.2 Company Profiles

6.2.1 DJI

6.2.2 Parrot SA

6.2.3 Delair SAS

6.2.4 AeroVironment Inc.

6.2.5 Northrop Grumman Corporation

6.2.6 Elbit Systems Ltd

6.2.7 General Atomics

6.2.8 Israel Aerospace Industries Ltd

6.2.9 Thales Group

6.2.10 The Boeing Company

6.2.11 Microdrones GmbH

6.2.12 BAYKAR

6.2.13 Leonardo SpA

6.2.14 Textron Inc.

7. MARKET OPPORTUNITIES
You can also purchase parts of this report. Do you want to check out a section wise price list?
Frequently Asked Questions
What is the study period of this market?
The Unmanned Aerial Vehicles Market market is studied from 2018 - 2027.
What is the growth rate of Unmanned Aerial Vehicles Market?
The Unmanned Aerial Vehicles Market is growing at a CAGR of >7% over the next 5 years.
What is Unmanned Aerial Vehicles Market size in 2018?
The Unmanned Aerial Vehicles Market is valued at 39005 Million USD in 2018.
What is Unmanned Aerial Vehicles Market size in 2027?
The Unmanned Aerial Vehicles Market is valued at 62494 Million USD in 2027.
Which region has highest growth rate in Unmanned Aerial Vehicles Market?
Asia-Pacific is growing at the highest CAGR over 2021- 2026.
Which region has largest share in Unmanned Aerial Vehicles Market?
North America holds highest share in 2021.
Who are the key players in Unmanned Aerial Vehicles Market?
Thales Group, Elbit Systems Ltd, Northrop Grumman Corporation, BAE Systems PLC, Israel Aerospace Industries Ltd are the major companies operating in Unmanned Aerial Vehicles Market.
80%

of our clients seek made-to-order reports. How do you want us to tailor yours?