The Thailand adhesives & sealants market will expand at CAGR of 5.35% during the forecast period of 2018–2023 due to its low-cost labor and rapid economic and industrial growth.
Rising Demand in Automotive Industry
The automotive industry is one of the flourishing end-user industries to increase the demand for adhesives in Thailand. A car-manufacturing unit uses about 40 kg of adhesives per vehicle, which opens a huge market for adhesives. The demand for automotive in Thailand has increased in the recent past and is expected to rise at a significant rate. PSA graphics and tapes play a vital role in the manufacturing of automobiles. They also aid in maintaining the performance and aesthetics. Moreover, the increasing R&D and increase in the number of sensors in cars are some factors that have increased the usage of adhesives in the industry.
The labor force and the productivity improvement, urbanization, and higher consumer market are the other reasons for the growth of the automotive industry in Thailand, which also drives the growth of the adhesive market.
Government regulations regarding VOC emissions might restrain the growing Thailand adhesive market.
Moreover, the adhesives demand in the country is increasing gradually, thus boosting the country to go for import of more raw materials, which has affected the country's export basket negatively.
Acrylics Dominates the Waterborne Adhesives Market
Acrylics have the highest market share in Thailand's waterborne adhesive market and it is expected to grow at a significant rate. Owing to their high strength, acrylic adhesives are commonly used for building and construction applications, and a specialized variation is widely used for bonding implant prostheses to bones. They find a wide range of applications in the health and medical fields, electronic parts production, and appliance and automotive manufacturing.
The rapidly expanding automotive industry in Thailand is resulting in the increasing consumption of acrylic-based water-borne adhesives. Additionally, increasing industrial investment, robust income growth, and high GDP growth are expected to drive the acrylic adhesives demand in Indonesia.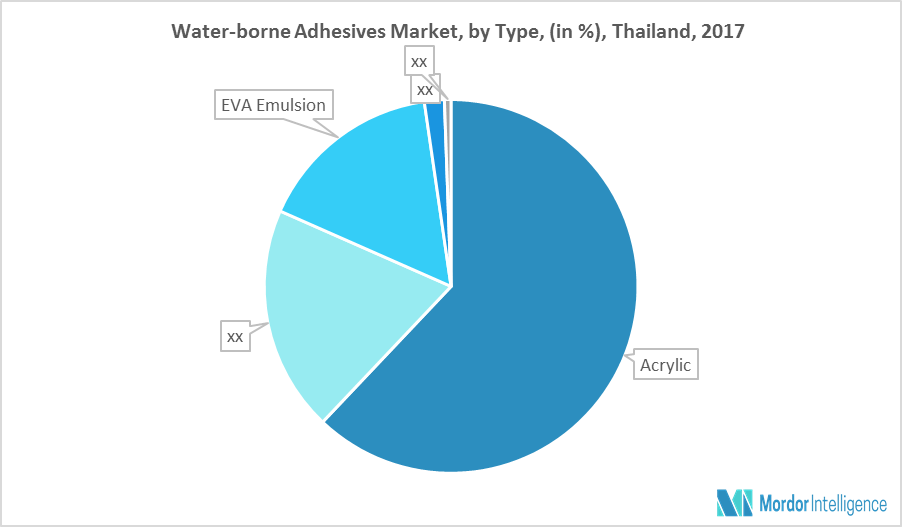 Notable Developments in the Market
September 2017: Henkel (Thailand) continues to expand its presence in Thailand in the adhesives and hair businesses and is aiming for greater growth, especially in the consumer sector.
Major Players: H.B. Fuller-Thailand, Bayer – Thailand, Sunstar Chemical (Thailand), Henkel Chemicals (Thailand), Star Bond (Thailand), Oji Label (Thailand) Limited, and Bond Chemicals (Thailand) Limited, among others.
Reasons to Purchase the Report
To understand the impact of end-user applications on the market.
Analyzing various perspectives of the market with the help of Porter's Five Forces Analysis.
To understand the dominating technology in the market.
Identify the latest developments, market shares, and strategies employed by the major market players.
3-month analyst support along with the Market Estimate sheet (in Excel).
Customization of the Report
This report can be customized to meet your requirements. Please connect with our representative, who will ensure you to get a report that suits your needs.
1. Introduction
1.1 Research Phases
1.2 Study Deliverables
1.3 Scope of the Report
2. Executive Summary
3. Market Insights
3.1 Industry Value Chain Analysis
3.2 Industry Attractiveness - Porter's Five Forces Analysis
3.2.1 Bargaining Power of Suppliers
3.2.2 Bargaining Power of Consumers
3.2.3 Threat of New Entrants
3.2.4 Threat of Substitute Products and Services
3.2.5 Competitive Rivalry
3.3 PESTEL Analysis
4. Market Dynamics
4.1 Drivers
4.1.1 Increasing Adoption of Low-cost Flexible Packaging
4.1.2 Increasing Demand in Automotive
4.1.3 Increasing Demand in Building and Construction
4.2 Restraints
4.2.1 Government Regulations Regarding VOC Emissions
4.2.2 Other Restraints
4.3 Opportunities
4.3.1 Shifting Focus Towards Usage of Bio-based Alternatives
5. Market Segmentation and Analysis (Market Size, Growth, and Forecast)
5.1 By Technology
5.1.1 Waterborne
5.1.1.1 Acrylics
5.1.1.2 Polyvinyl Acetate (PVA) Emulsion
5.1.1.3 Ethylene Vinyl Acetate (EVA) Emulsion
5.1.1.4 Polyurethane Dispersions (PU)
5.1.1.5 CR (Chloroprene Rubber) Latex
5.1.1.6 Others
5.1.2 Solvent-borne
5.1.2.1 Styrene-butadiene Rubber
5.1.2.2 Chloroprene Rubber
5.1.2.3 Poly Acrylate (PA)
5.1.2.4 Polyurethane
5.1.2.5 Others
5.1.3 Reactive
5.1.3.1 Epoxy
5.1.3.2 Modified Acrylics & Cyanoacrylates
5.1.3.3 Silicone
5.1.3.4 Polyurethane
5.1.3.5 Anaerobic
5.1.3.6 Others
5.1.4 Hot-melts
5.1.4.1 Ethylene Vinyl Acetate
5.1.4.2 Synthetic Rubbers
5.1.4.3 Others
5.1.5 Others
5.2 Sealants by Product Type
5.2.1 Silicone
5.2.2 Polyurerthane
5.2.3 Acrylic
5.2.4 Polyvinyl Acetate
5.2.5 Others
5.3 By End-user Industry
5.3.1 Building & Construction
5.3.2 Paper, Board & Packaging
5.3.3 Woodworking & Joinery
5.3.4 Transportation
5.3.5 Footwear & Leather
5.3.6 Healthcare
5.3.7 Electronics
5.3.8 Others (Textile, Consumer Goods, etc.)
6. Competitive Landscape
6.1 Mergers & Acquisitions, Joint Ventures, Collaborations, and Agreements
6.2 Market Share Analysis**
6.3 Strategies Adopted by Leading Players
7. Company Profiles (Overview, Financials**, Products and Services, and Recent Developments)
7.1 Asia Cemedine Co Ltd (Acc)
7.2 Bayer – Thailand
7.3 Bond Chemicals (Thailand) Limited
7.4 Bostik (Thailand) Co., Ltd
7.5 Dunlop Adhesives (Thailand)
7.6 H.B. Fuller - Thailand
7.7 Henkel Chemicals (Thailand)
7.8 Oji Label (Thailand) Limited
7.9 Sika Thailand
7.10 Starbond (Thailand)
7.11 Sunstar Chemical (Thailand)
7.12 Thai Mitsui Specialty Chemicals Co., Limited
*List not exhaustive
8. Disclaimer
**Subject to availability on public domain