Temperature Management Market Size
The temperature management market is expected to register a CAGR of around 3% during the forecast period (2018-2023). With the rising number of surgeries being performed in hospitals worldwide, there is a growing demand for temperature management devices, which are used to manage the human body temperature by providing regulations in inside recovery rooms, operations theaters, and other types of hospital rooms. The well-established healthcare infrastructure with the high adoption rate of new technologies and increasing surgical centers, would help North America dominate the market share.
Rising Number of Surgical Procedures
The rising number of surgical procedures is one of the primary drivers for the temperature management market. According to Eurostat 2017, a high number of surgeries were performed in European countries, including cataract surgery and colonoscopy. With that, a large increase in recent years has been observed in appendectomies and hysterectomies using keyhole surgery. Also, globally cardiovascular along with musculoskeletal operations are done majorly in most of the regions. This raises the demand for temperature management devices usage in hospital rooms, intensive care units (ICUs), and other areas.
Other driving factors for this market are rising prevalence of cancer and cardiovascular diseases, development of technologically advanced intravascular systems, and growing medical tourism.
High Cost Associated with Temperature Management Systems
The high cost associated with temperature management systems is one of the major restricting factors for this market. The surgical procedure becomes expensive due to the use of temperature management systems such as endovascular methods. The cost per treatment for single-use components also increases. For example, Arctic 5000 and its related consumables are costly and require a team of specialists to handle the medical device. Thus, the price pressure and lack of availability of trained professionals impede this market.
Other factor impeding this market include product recalls and failures of temperature management devices.
Asia-Pacific to Show Attractive Growth Rate in Temperature Management Market
The Asia-Pacific region is expected to show attractive growth during the forecast period due to the presence of high growth opportunities for the unmet needs of the target population in this region. Due to growing medical tourism, countries such as Malaysia, India, China, Thailand, and Japan are gaining growth in this market. With that, the North American region is expected to dominate the market share in the forecast period due to the well-developed healthcare infrastructure, healthcare facilities, and high adoption of new technologies.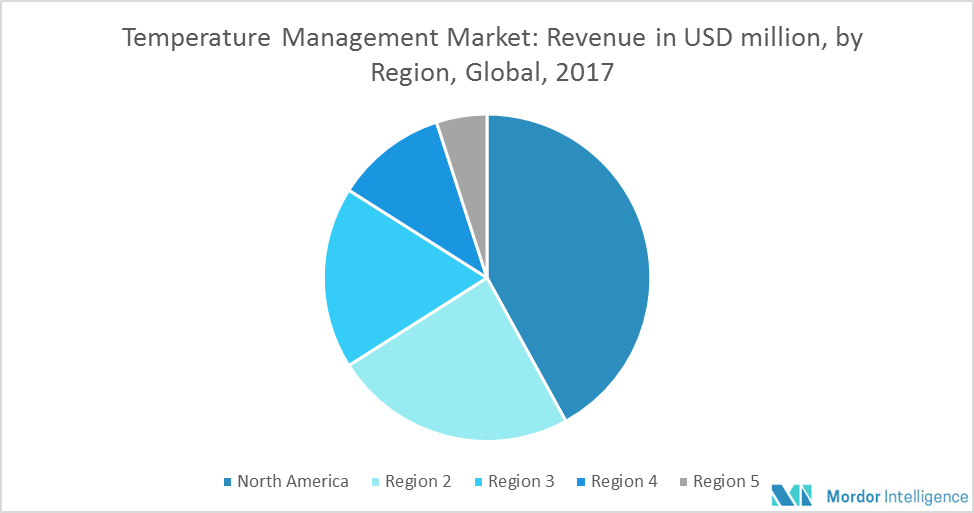 Key Developments of Temperature Management Market
April 2018 - Boston Scientific Corporation acquired Securus Medical Group, Inc., which is involved developing thermal monitoring system for the continuous measurement of esophageal temperature.
November 2017 - Qool Therapeutics, Inc. raised a USD 8 million series A-1 for targeted temperature management system to treat multiple clinical conditions in vascular surgery.
Temperature Management Market major players
3M.
Atom Medical Corporation.
Becton.
Dickinson and Company.
Cincinnati Sub-Zero Products.
LLC.
Drägerwerk AG & Co. KGaA.
Geratherm Medical AG.
Medtronic Plc.
Smith Medical Inc.
Stryker.
and Zoll Medical Corporation.
Reasons to Purchase Temperature Management Market Report
Current and future of temperature management market in the developed and emerging markets
Analysis of various perspectives of the market with the help of Porter's five forces analysis
The segment that is expected to dominate the market
Regions that are expected to witness the fastest growth during the forecast period
Identify the latest developments, market shares, and strategies employed by the major market players
3 month analyst support, along with the Market Estimate sheet (in Excel)
Customize Temperature Management Market Report
This report can be customized to meet your requirements. Please connect with our representative, who will ensure you to get a report that suits your needs
1. Introduction
1.1 Market Definition
2. Research Methodology
3. Executive Summary
4. Key Inferences
5. Temperature Management Market Overview
5.1 Current Market Scenario
5.2 Porter's Five Forces Analysis
5.2.1 Bargaining Power of Suppliers
5.2.2 Bargaining Power of Consumers
5.2.3 Threat of New Entrants
5.2.4 Threat of Substitute Product and Services
5.2.5 Competitive Rivalry within the Industry
6. Market Dynamics
6.1 Temperature Management Market Drivers
6.1.1 Increasing Prevalence of Cancer and Cardiovascular Diseases
6.1.2 Rising Number of Surgical Procedures
6.1.3 Development of Technologically Advanced Intravascular Systems
6.1.4 Growth of Medical Tourism
6.2 Temperature Management Market Restraints
6.2.1 High Cost of Temperature Management Systems
6.2.2 Products Recalls & Failures
6.3 Opportunities
6.4 Key Challenges
7. Market Segmentation
7.1 Temperature Management Market By Product Type
7.1.1 Patient Warming Systems
7.1.1.1 Conventional Warming System
7.1.1.2 Surface Warming System
7.1.1.3 Intravascular Warming System
7.1.2 Patient Cooling Systems
7.1.2.1 Surface Cooling System
7.1.2.2 Intravascular Cooling System
7.1.2.3 Conventional Cooling System
7.2 Temperature Management Market By Application
7.2.1 Surgery
7.2.2 Cardiology
7.2.3 Orthopedics
7.2.4 Neurology
7.2.5 Other
7.3 Temperature Management Market By End User
7.3.1 Operating Rooms
7.3.2 Intensive Care Units
7.3.3 Emergency Rooms
7.3.4 Others
7.4 Temperature Management Market By Geography
7.4.1 North America
7.4.1.1 US
7.4.1.2 Canada
7.4.1.3 Mexico
7.4.2 Europe
7.4.2.1 France
7.4.2.2 Germany
7.4.2.3 UK
7.4.2.4 Italy
7.4.2.5 Spain
7.4.2.6 Rest of Europe
7.4.3 Asia-Pacific
7.4.3.1 China
7.4.3.2 Japan
7.4.3.3 India
7.4.3.4 Australia
7.4.3.5 South Korea
7.4.3.6 Rest of Asia-Pacific
7.4.4 Middle East & Africa
7.4.4.1 GCC
7.4.4.2 South Africa
7.4.4.3 Rest of MEA
7.4.5 South America
7.4.5.1 Brazil
7.4.5.2 Argentina
7.4.5.3 Rest of South America
8. Temperature Management Market Competitive Landscape
8.1 Mergers & Acquisition Analysis
8.2 Agreements, Collaborations, and Partnerships
8.3 New Products Launches
9. Temperature Management Market Key Players
9.1 3M
9.2 Atom Medical Corporation
9.3 Becton, Dickinson and Company
9.4 Cincinnati Sub-Zero Products, LLC
9.5 Drägerwerk AG & Co. KGaA
9.6 Geratherm Medical AG
9.7 Medtronic Plc
9.8 Smith Medical Inc.
9.9 Stryker
9.10 Zoll Medical Corporation
List Not Exhaustive
10. Temperature Management Market Outlook