Brazil dominates offshore activity in the region. To raise the investments in exploration & production activity, Brazil has introduced liberal policies to invite the operators from the private sector. The offshore activity in other countries, like Guyana, Colombia, and Trinidad & Tobago, is also expected to gain momentum. The growing investments and increasing offshore activities in the region are expected to drive the market, during the forecast period.
Major Offshore Discoveries in the Region Provide an Opportunity for the Market
During 2015-17, three major oil discoveries were made in Guyana. All of the three discoveries are deepwater discoveries, and cumulatively, estimated to hold about 2 billion barrels equivalent of oil & gas, which has made Guyana's offshore fields one of the most promising deepwater plays in the world. As of March 2018, the commercial production from these reserves has not started, but the operating companies, like Repsol and Tullow oil, have announced plans to develop the blocks. The government of Guyana has also announced the investment of USD 500 million to build processing facilities and oil services base to encourage the offshore activity. BP has also announced two offshore discoveries in Trinidad and Tobago. BP expects these discoveries to support its gas production in the country, during the forecast period. The large discoveries, growing investments from private investors, and assistance from the governments are expected to drive the offshore exploration activity in the region, which provides opportunities for offshore commercial drilling and production activity, and in turn for the subsea production and processing system market.
Growing Investments to Drive the Market in Brazil
Brazil accounts for more than half of the offshore activity in the region. Petrobras is the leading operator in Brazil, in terms of planned production and capital expenditure in the oil & gas sector. The company announced its plans to invest USD 90.9 billion in Brazil's upstream industry, during 2016-2025. Brazil's Carcara field, located in the Campos Basin, is one of the biggest offshore fields in the world. In 2016, Petrobras opened the Caracara field for foreign ownership, which has resulted in Norway's Statoil buying 66% stake in the field for USD 2.5 billion. The growing investments by Petrobras and international operators are expected to drive the offshore activity in the country, in turn driving the subsea production and processing system market, during the forecast period.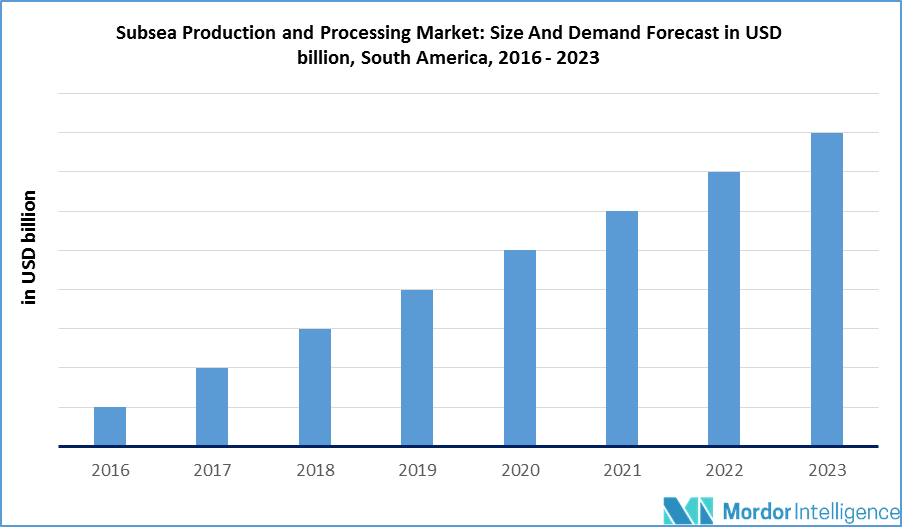 Key Developments in the Market
March 2017: Statoil ASA and Petrobras reached an agreement regarding the exploration and production activity in Roncador oil field in Brazil. According to the agreement, Statoil will acquire 25% interest in the oil field from Petrobras. The total consideration includes an initial payment of USD 2.35 billion and up to USD 550 million of additional contingent payments.
MAJOR PLAYERS: Baker Hughes A GE Company, Schlumberger Limited, Halliburton Company, National OilWell Varco, Weatherford International Inc., Trendsetter Engineering, Aker Solutions, TechnipFMC PLC, Oceaneering International Inc., Drill-Quip Inc., among others.
Reasons to Purchase This Report
Current and future South America subsea production and processing system market outlook in the developed and emerging markets
Analyzing various perspectives of the market with the help of Porter's five forces analysis
The segment that is expected to dominate the market
Regions that are expected to witness the fastest growth during the forecast period
Identify the latest developments, market shares, and strategies employed by the major market players
3 months analyst support, along with the Market Estimate sheet (in excel)
Customization of the Report
This report can be customized to meet your requirements. Please connect with our representative, who will ensure you get a report that suits your needs.
1. Executive Summary
2. Research Methodology
3. Market Overview
3.1 Introduction
3.2 Market Size and Demand Forecast until 2023
3.3 Recent Trends and Developments
3.4 Government Policies and Regulations
4. Market Dynamics
4.1 Drivers
4.2 Restraints
4.3 Opportunities
5. Value Chain Analysis
6. Industry Attractiveness - Porter's Five Force Analysis
6.1 Bargaining Power of Suppliers
6.2 Bargaining Power of Consumers
6.3 Threat of New Entrants
6.4 Threat of Substitutes
6.5 Intensity Competitive Rivalry
7. Market Segmentation and Analysis (Overview, Market Size, and Demand Forecast until 2023)
7.1 By Production System
7.1.1 Subsea Trees
7.1.2 Subsea Umbilicals, Risers, & Flowlines
7.1.3 Subsea Wellhead
7.1.4 Others
7.2 By Processing System
7.2.2 Boosting
7.2.2 Separation
7.2.3 Injection
7.2.4 Gas Compression
8. Regional Market Analysis (Overview, Market Size, and Demand Forecast until 2023)
8.1 Brazil
8.2 Trinidad & Tobago
8.4 Venezuela
8.3 Rest of South America
9. Key Company Analysis* (Overview, Products & Services, Financials**, Recent Development, and Analyst View)
9.1 Baker Hughes A GE Company
9.2 Schlumberger Limited
9.3 Halliburton Company
9.4 National OilWell Varco
9.5 Weatherford
9.6 Trendsetter Engineering
9.7 Aker Solutions
9.8 TechnipFMC PLC
9.9 Oceaneering International Inc.
9.10 Drill-Quip Inc.
10. Competitive Landscape
10.1 Mergers and Acquisitions
10.2 Joint Ventures, Collaborations, and Agreements
10.3 Strategies Adopted by Leading Players
11. Appendix
11.1 Contact Us
11.2 Disclaimer
*List not Exhaustive
**Subject to availability to public domain