The South America Pressure-sensitive Adhesives (PSA) Market is expected to register fast-paced growth, recording an estimated CAGR of 4.3%, during the forecast period. South America accounts for a share of over 5% in the global PSA market.
Increasing Adoption of Low-cost Flexible Packaging Aids
Low-cost flexible packaging has established itself as the most sought after form in the packaging industry. In 2013, as per the Flexible Packaging Association, flexible packaging accounted for about 58% of the institutional food industry and retail shipments, and about 12% of retail non-food shipments worldwide. Owing to a steady rise in food exports and growth in the food-processing sector, the demand for low-cost flexible packaging has been consistently increasing in South America. In addition, the change in lifestyle and workplace habits and shifting preference toward modern food habits are augmenting the demand for packaged foods.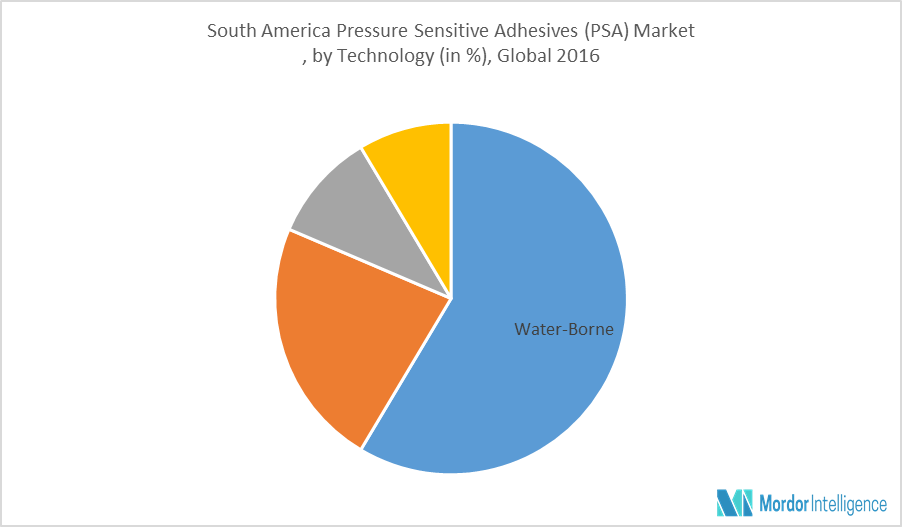 Water-borne PSAs to Witness Healthy Growth
Water-borne PSAs use water as a solvent, along with a polymer and a water dispersible agent. The majority of these PSAs are made from acrylic compounds. They provide a wide array of performance advantages, such as better chemical and heat resistance, compared to other categories. Water-borne adhesives are used in tapes and labels, where water is retained and not absorbed by coating. Water-based PSAs constituted around 40% of the overall market revenue in 2017 and the segment is expected to register a significant CAGR of over 7.1% by 2023. Packaging labels and adhesive films in the growing food & beverage, automotive, and electrical & electronics industries are expected to boost the consumption of water-based adhesives during the forecast period.
Brazil to Lead the Market
The Brazilian economy is expected to register growth during the forecast period, until there are reforms and corrections in the political system. However, the Brazilian government is investing heavily in the R&D sector, with public universities and research institutes carrying out these activities. Such initiatives have made Brazil the technological center of South America and its R&D is gaining global recognition. The packaging and furniture industries have recorded significant growth and are expected to gain momentum during the forecast period. In 2017, even the electronics market remained gloomy in Brazil, with production witnessing a decline, owing to the current market scenario. The consumption of pressure-sensitive adhesives is expected to decline in the country compared to other countries, and witness sluggish growth over the forecast period.
Notable Developments in the Market
October 2017: 3M declared that it has finalized the sale of its electronic monitoring business to funds recommended by Apax Partners, for approximately USD 200 million
Major Players: 3M, Sika AG, and Jowat AG, among others.
Reasons to Purchase this Report
Analyzing various perspectives of the market, with the help of Porter's five forces analysis.
The application that is expected to dominate the market.
The regions that are expected to witness the fastest growth during the forecast period.
Identify the latest developments, market shares, and strategies employed by the major market players.
3 months analyst support along with the Market Estimate sheet (In excel).
Customization of the Report
This report can be customized to meet your requirements. Please connect with our representative, who will ensure you to get a report that suits your needs.
1. Introduction
1.1 Research Phases
1.2 Study Deliverables
1.3 Scope of the Report
2. Executive Summary
3. Market Insights
3.1 Industry Value Chain Analysis
3.2 Industry Attractiveness – Porter's Five Forces Analysis
3.2.1 Bargaining Power of Suppliers
3.2.2 Bargaining Power of Consumers
3.2.3 Threat of New Entrants
3.2.4 Threat of Substitute Products and Services
3.2.5 Degree of Competition
4. Market Dynamics
4.1 Drivers
4.1.1 Booming Construction Industry
4.1.2 Growing Automotive Industry
4.1.3 Dynamic Economic Development in Brazil
4.2 Constraints
4.2.1 Volatility in Raw Material Prices
4.2.2 Stringent Environmental Regulations Regarding VOC Emissions
4.3 Opportunities
4.3.1 Growing Aerospace Industry
4.3.2 New Product Developments to Gain Competitive Edge
4.3.3 Rising Demand for Fuel Efficient Vehicles
5. Market Segmentation and Analysis (Market Size, Share, and Forecast)
5.1 By Technology
5.1.1 Waterborne
5.1.2 Solvent-borne
5.1.3 Hot Melt
5.1.4 Radiation
5.2 By Application
5.2.1 Tape
5.2.1.1 Commercial
5.2.1.2 Protective
5.2.1.3 Foam
5.2.1.4 Electronic
5.2.1.5 Medical
5.2.1.6 Specialty
5.2.2 Label
5.2.3 Graphics
5.2.4 Others
6. Regional Market Analysis (Market Size, Share, and Forecast)
6.1 Brazil
6.2 Argentina
6.3 Columbia
6.4 Chile
6.5 Rest of South America
7. Competitive Landscape
7.1 Mergers & Acquisitions, Joint Ventures, Collaborations and Agreements
7.2 Market Share Analysis**
7.3 Strategies Adopted by Leading Players
8. Company Profiles (Overview, Financials**, Products & Services, Recent Developments, and Analyst View)
8.1 3M Co.
8.2 AdCo UK Limited
8.3 Adhesive Technologies Inc. (AdTech)
8.4 Adhesives Research Inc.
8.5 Alfa International Corporation
8.6 American Biltrite Inc.
8.7 American Chemical Inc.
8.8 Arkema Group (Bostik SA)
8.9 Ashland Inc.
8.10 Avery Dennison Corp.
8.11 Beardow & Adams (Adhesives) Ltd
8.12 Benson Polymers Ltd
8.13 Bühnen (Germany)
8.14 Collano Adhesives AG
8.15 Cyberbond LLC
8.16 Dow Chemical Co.
8.17 Dow Corning Corporation (US)
8.18 Drytac
8.19 Dymax
8.20 Evans Adhesive Corporation Ltd
8.21 Franklin International
8.22 HB Fuller Co.
8.23 Helmitin Adhesives
8.24 Henkel AG & Co. KGaA
8.25 Hexcel Corporation
8.26 Hexion
8.27 Huntsman Corp.
8.28 ITW Performance Polymers (Illinois Tool Works Inc.)
8.29 9 Jowat AG
8.30 KMS Adhesives
8.31 LORD Corp.
8.32 Mactac
8.33 Mapei SpA
8.34 Master Bond
8.35 Pidilite Industries Ltd
8.36 Royal Adhesives and Sealants
8.37 Sika AG
8.38 Tesa SE (A Beiersdorf Company)
8.39 Wacker Chemie AG
8.40 Wisdom Adhesives Worldwide
*List Not Exhaustive
9. Disclaimer
**Subject to Availability on the Public Domain