The burden of diabetes in Latin America is very high. According to a study published in PMC by the University of Edinburgh in 2017, the annual number of deaths in 2000 caused by diabetes mellitus was estimated at 339035. This represented a loss of 757 096 discounted years of productive life among persons younger than 65 years (>USD 3 billion). Permanent disability caused a loss of 12 699 087 years and over USD 50 billion, and temporary disability caused a loss of 136 701 years in the working population and over USD 763 million. Costs associated with insulin and oral medications were USD 4720 million, hospitalizations USD 1012 million, consultations USD 2508 million and care for complications USD 2 480 million. The total annual cost associated with diabetes was estimated at USD 65 216 million (direct USD 10 721; indirect USD 54 496). The frequency of diabetes in Latin America is expected to increase by 38% over the next ten years, compared with an estimated 14% increase in the total population. In patients relying on insulin pumps or multiple daily injections (MDI) therapy the CGMs proves to be an instrumental tool which helps in the improvement of glycemic balance without aggregating the danger for severe hypoglycemia. As studied in several clinical trials diabetic patients with T1DM have been shown to have better glycemic control in comparison to when glucometer is used for routine self-monitoring blood glucose. The trend follows in children as well those who use a CGM on a regular basis. The results in these children show better HbA1c levels without an amplified frequency of hypoglycemia. The current CGM models approved administer glucose oxidase-based electrochemical subcutaneous sensors for the detection of glucose levels in the interstitial fluid.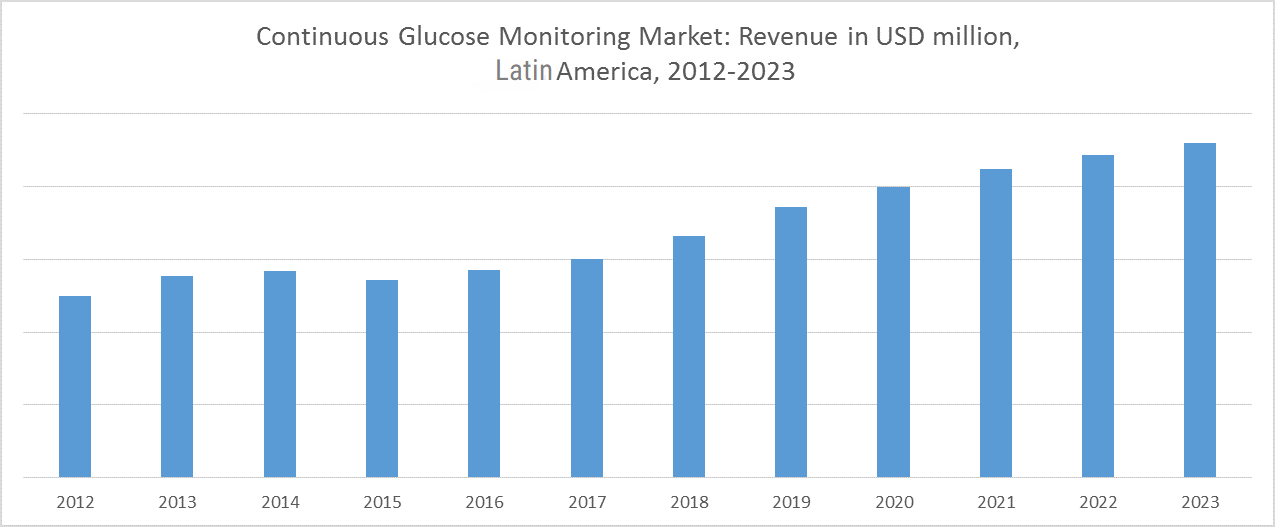 Source: Mordor Intelligence Analysis
Continuous Sharing of Information and Capacity to Notify Caretakers
The benefit of good glycemic control to curb complications of diabetes is well acknowledged, and self-monitoring of glucose levels is crucial to successful improvement and sustenance of good glycemic control. This can be perplexing in infants and youth due to the erratic and increased rate of recurrence of food consumption, variable patterns of physical activity, greater rates of comorbidity, and psychological and hormonal encounters of puberty all of which can lead to larger glycemic variability, broader glycemic excursions and more recurrent hypoglycemia than adults. CGM can help recognize low blood sugars even before they occur or, for children who have hypoglycemia unfamiliarity or are not able to express their symptoms, when they occur, the CGM can keep youngsters out of hyperglycemia by alerting caretakers weather the glucose levels are high or low between meals or overnight.
Brazil will maintain Dominance in the Market
In Latin America Continuous Glucose Monitoring market, Brazil accounts for the close to 57.88% of the market value in 2017. By 2023 the Continuous Glucose Monitoring market in Latin America will be USD 76.21 million. Brazil accounts for the highest CAGR of 24.02% in North America Continuous Glucose Monitoring market. It is imperative that the CGM devices are used alongside insulin pumps, and as the trends show a higher number of diabetic patients using insulin pumps for diabetes management, can be predicted that the number of units of CGM devices sold will also follow. The Latin America Continuous Glucose Monitoring market is USD 34.41 million in 2017 and is expected to reach USD 144.95 million during the forecast period.
Key Players:
Abbott, Medtronic, Dexcom.
Key Developments:
Dec 2017: Abbott's new FreeStyle Libre Flash Glucose Monitoring System, approved Wednesday by the US FDA. It is the first continuous blood sugar monitor for diabetics that doesn't need backup finger prick tests.
Report Scope:
| | |
| --- | --- |
| Attribute | Details |
| The base year for estimation | 2017 |
| Review Period | 2012-2017 |
| Forecast Period | 2018 – 2023 |
| Market Representation | Revenue in USD million and CAGR from 2018 – 2023 |
| Regions covered | Latin America |
| Report coverage | Revenue forecast and market dynamics |
Reasons to Purchase this Report:
To study current and future market outlook in Latin America
Analyzing various perspectives of the market with the help of Porter's five forces analysis
Detailed analysis of the segment that is expected to dominate the market
Identifying the latest developments and strategies employed by the major market players
3-month analyst support, along with the Market Estimate sheet in excel
Report Customization and Benefits:
This report can be customized to meet the desired requirements. Please connect with our analyst, who will ensure that you get a report that suits your needs.