The global reactive adhesives market is expected to register a moderate CAGR during the forecast period, 2018-2023. Asia-Pacific region is estimated to lead the market owing to its rapid increase in production of automotive and increase in installation of wind turbines. Wind turbines segment is expected to be the fastest growing by end-user industry.
Growing Demand from Automotive Industry
Reactive adhesives play a vital role in the automotive production for the adhesion of many materials such as steel, aluminum and other components of a vehicle. Polyurethanes and modified acrylics are some of the primarily used reactive adhesives in the assembling operation of cars and other vehicles. Other applications of reactive adhesives in the automotive industry include roof linings, bonding of seat units, glazing, sheet molding, etc. They can also be used to bond emblems as well as anchor plates onto gear knobs. The application of adhesive bonding enables a significant weight reduction of the vehicle, an increase of the body stiffness, improved crash performance/safety and enhanced NVH characteristics, as compared to conventional joining technologies. With increased emphasis on fuel efficiency and vehicular emission control, the reduction of vehicle body weight is gaining widespread importance throughout the globe. According to the European Automobile Manufacturers Association, automotive production in whole Europe grew by 3.1% YoY in the year 2017 over 2016 reaching a total of 22,161,107 vehicles. In 2017, the Indian automotive industry grew by 5.83%. The government of China is planning to introduce more than 1 million electric vehicles by 2020, which is further expected to drive the market for reactive adhesives in the country. United States is one of the largest automotive manufacturing countries in the world. Light vehicle production in the country reached almost 12 million in 2016, while sales peaked to 17.5 million units during the same year. Furthermore, the country exported around 2 million new light weight vehicles in 2016, valued at USD 57 billion, with additional exports of automotive parts valued at around USD 80 million.
Wind Turbines - The Fastest Growing End-user Industry
The consumption of wind energy has been significantly increasing across the globe in the past few years. They offer many advantages such as: they provide an unlimited & free energy, harvesting wind power is a clean and non-polluting way to generate electricity. Unlike other types of power plants, it emits no air pollutants or greenhouse gases. Reactive adhesives are used to bond blades together. They offer a solution of reduced weight, as well as providing benefits in reduced assembly time and corrosion protection. The global installed wind power capacity has registered a growth of 10.64% in 2017 and reached a total of 539,581 MW.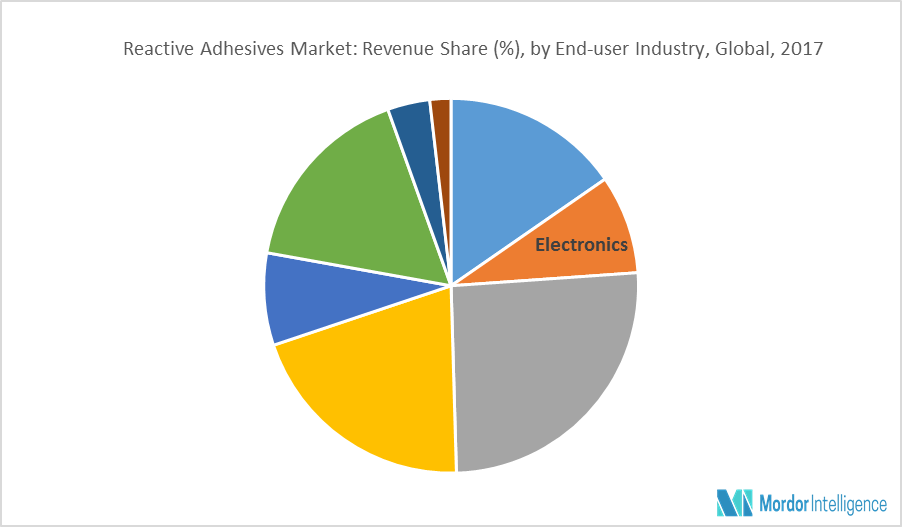 Asia-Pacific Region to Lead the Market
The total installed wind power capacity in China reached a total of 188,232 MW in 2017 registering a growth rate of 11.58%. China's transport ministry and National Development and Reform Commission (NDRC) has planned to invest USD 724 billion during the period 2016-2018 to construct 303 key transportation projects including railways, highways, waterways, airports, and urban rail. Under the 13th five year plan (2016-2020), the Chinese government is planning for infrastructure development of 30,000 km of railway lines and 30,000 km of expressways. The production of light vehicles in China recorded a growth of 1.6% YOY, reaching a total of 24,806,687 units in 2017. The production of trucks in China recorded a growth of 28.5% YOY, reaching a total of 2,257,562 units in 2017. The total installed wind power capacity in India reached a total of 32,848 MW in 2017 registering a growth rate of 14.59%. The Indian government has declared a target of USD 376.5 billion investment in infrastructure over a period of 3 years, including USD 120.5 billion for developing 27 industrial groups, and USD 75.3 billion for road, railway, and port connectivity projects. In 2017, more than 4.78 million units of vehicles were produced in India. Production of passenger vehicles (PV), and light commercial vehicles (LCV), growth rates of 6.6%, and 8.2%respectively in FY 2017 over FY 2016. The market for reactive adhesives in South Korea was boosted by the 2018 Winter Olympic Games in Pyeongchang, Gangwon province, as government invested USD 10.8 billion for the construction of new stadiums and other associated infrastructure.
Notable Developments in the Market
October 2017: H.B. Fuller's finalized its acquisition of Royal Adhesives & Sealants for USD 1.575 billion. This acquisition is likely to deepen H.B. Fuller's expertise in a range of sectors, such as medical, electronics, hygiene, transportation, construction, clean energy, and others
October 2016: Bostik (the Specialty Adhesives business line of Arkema) opens new adhesive production plant in India
Major Players: Henkel AG, HB Fuller, Arkema, Sika AG, and 3M, among others.
Reasons to Purchase this Report
To understand the impact of end-user applications on the market
Analyzing various perspectives of the market with the help of Porter's five forces analysis
To understand the dominating resin type in the market
Countries expected to witness the fastest growth during the forecast period
Identifying the latest developments, market shares, and strategies employed by the major market players
3-month analyst support, along with the Market Estimate sheet (in Excel)
Customization of the Report
This report can be customized to meet your requirements. Please connect with our representative, who will ensure you to get a report that suits your needs
1. Introduction
1.1 Research Phases
1.2 Study Deliverables
1.3 Scope of the Report
2. Executive Summary
3. Market Insights
3.1 Industry Value Chain Analysis
3.2 Industry Attractiveness - Porter's Five Forces Analysis
3.2.1 Bargaining Power of Suppliers
3.2.2 Bargaining Power of Consumers
3.2.3 Threat of New Entrants
3.2.4 Threat of Substitute Products and Services
3.2.5 Degree of Competition
4. Market Dynamics
4.1 Drivers
4.1.1 Growing Demand from Automotive Industry
4.1.2 Increasing Application in Construction of Wind Turbines
4.2 Restraints
4.2.1 Negative Effects of Epoxy and Acrylic Reactive Adhesives on Skin
4.2.2 Other Restraints
4.3 Opportunities
4.3.1 Growing Popularity of Heat-resistant Products
4.3.2 Other Opportunities
5. Market Segmentation and Analysis (Market Size, Growth, and Forecast)
5.1 By Resin Type
5.1.1 Epoxy
5.1.2 Modified Acrylics
5.1.3 Silicone
5.1.4 Polyurethane
5.1.5 Anaerobic
5.1.6 Cyanoacrylates
5.1.7 Others
5.2 By End-user Industry
5.2.1 Building & Construction
5.2.2 Wind Turbines
5.2.3 Transportation
5.2.4 Healthcare
5.2.5 Electronics
5.2.6 Aerospace
5.2.7 Sports & Leisure
5.2.8 Industrial & Machinery
6. Regional Market Analysis (Market Size, Growth, and Forecast)
6.1 Asia-Pacific
6.1.1 China
6.1.2 India
6.1.3 Japan
6.1.4 South Korea
6.1.5 Australia & New Zealand
6.1.6 Rest of Asia-Pacific
6.2 North America
6.2.1 United States
6.2.2 Canada
6.2.3 Mexico
6.2.4 Rest of North America
6.3 Europe
6.3.1 Germany
6.3.2 United Kingdom
6.3.3 Italy
6.3.4 France
6.3.5 Spain
6.3.6 Russia
6.3.7 Rest of Europe
6.4 South America
6.4.1 Brazil
6.4.2 Argentina
6.4.3 Rest of South America
6.5 Middle East & Africa
6.5.1 Saudi Arabia
6.5.2 South Africa
6.5.3 Rest of Middle East & Africa
7. Competitive Landscape
7.1 Mergers and Acquisitions, Joint Ventures, Collaborations and Agreements
7.2 Market Share Analysis**
7.3 Strategies Adopted by Leading Players
8. Company Profiles (Overview, Financials**, Products & Services, and Recent Developments)
8.1 3M
8.2 AdCo UK Limited
8.3 American Biltrite Inc.
8.4 Arkema Group (Bostik SA)
8.5 Ashland Inc.
8.6 Avery Dennison Corp.
8.7 BÜHNEN (Germany)
8.8 Collano Adhesives AG
8.9 DELO Industrial Adhesives
8.10 Dow Chemical Co.
8.11 Franklin International
8.12 H.B. Fuller Co.
8.13 Helmitin Adhesives
8.14 Henkel AG & Co. KGaA
8.15 Hexcel Corporation
8.16 Hexion
8.17 Huntsman Corp.
8.18 Jowat AG
8.19 LORD Corp.
8.20 Master Bond
8.21 Pidilite Industries Ltd.
8.22 Royal Adhesives and Sealants
8.23 Sika AG
*List not exhaustive
9. Disclaimer
**Subject to availability on public domain