In 2017, the smart factory market was valued at USD 63.66 billion and is expected to reach a value of USD 104.6 billion by 2023, registering a CAGR of 8.63% during 2018-2023 (the forecast period).
Smart factory refers to various fully-integrated automation solutions adopted for manufacturing facilities. This integration helps streamline the material flow during all the processes involved in the manufacturing, thus, enabling effective movement of materials across the factory floor. Combining the digital and physical worlds has revolutionized the automation industry, thus, enabling optimum performance. Several manufacturing companies are now capable of achieving zero-waste production and shorter time to market. Effortless monitoring, reduction of waste, and speed of production are some of the major advantages of the automated manufacturing processes. This factor is pushing industries around the world to deploy smart factory initiatives, in order to improve the performance and efficiency.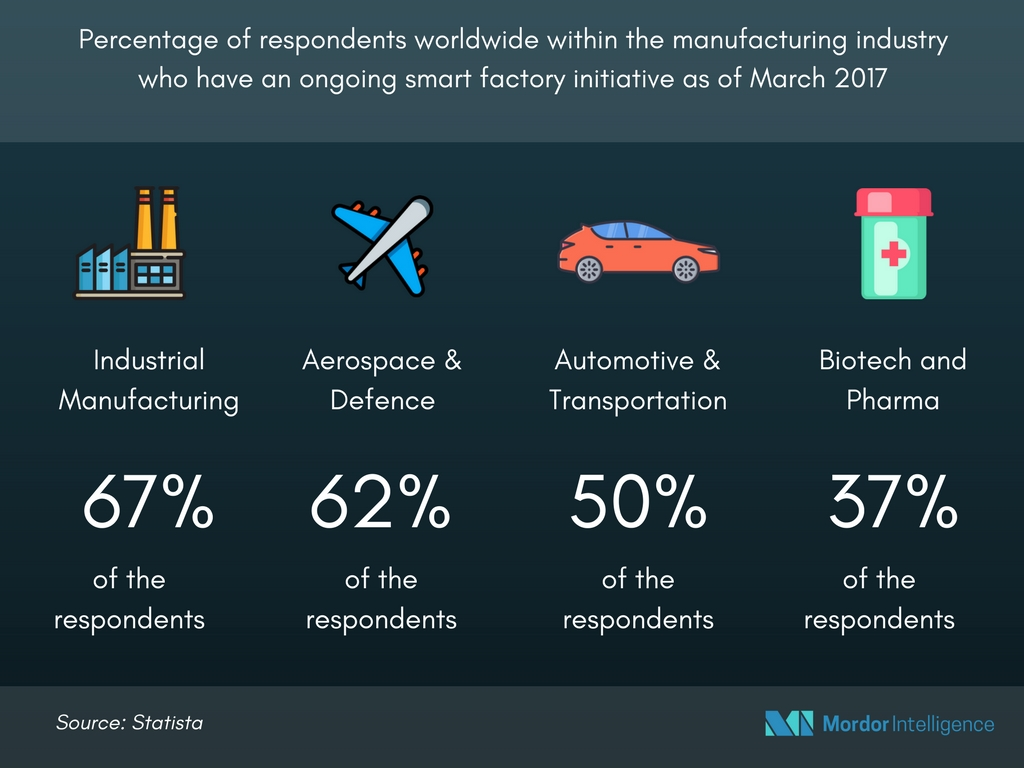 Growing Adoption of Internet of Things (IoT) to Escalate the Demand
Internet of things has become a key part of the modern production establishments and factories. It is impossible to imagine a modern manufacturing environment that does not have internet access, a local network, or a few sensors or devices connected to that network. Big size plants, like oil refineries and metal casting establishments, have hundreds of sensors. The sensors feed useful data to the local servers, which are helpful for the management to monitor and regulate the day-to-day production activities. This situation in the industrial sector brought a new concept of Industrial-IoT (IIoT).
According Ed Schuster, a prominent researcher at MIT, "The Industrial Internet of Things seeks to improve manufacturing and supply chain efficiency via data, information, mathematical modeling, and greater coordination. The components of the Industrial Internet include: a) machine learning, b) big data, c) Internet of Things, and machine-to-machine communication". With the formation of Industrial Internet Consortium, the speed of adoption of these technologies is expected to reach its full potential in the next four years, leading to rapid industrial automation and hence driving the growth of smart factories.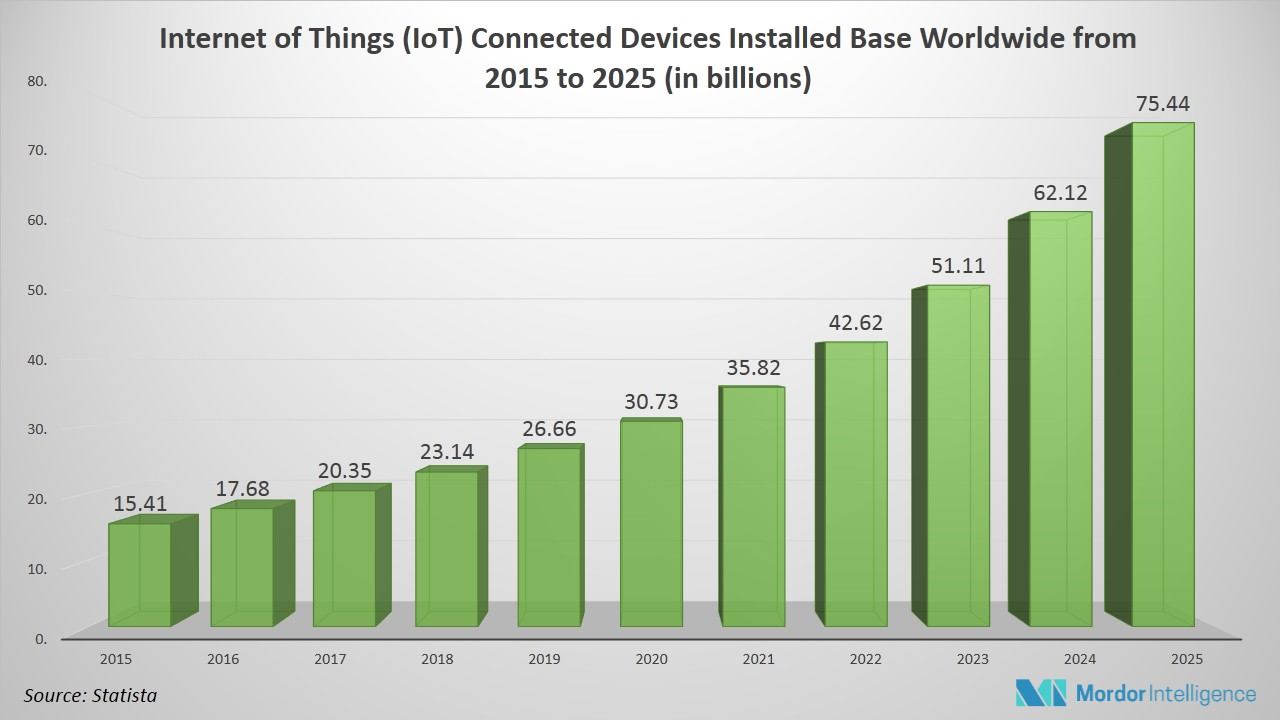 The Pharmaceutical Industry to be the Key Source of Demand in the Future
All pharmaceutical companies are concentrating on maintaining flawless processes and to be certified by government agencies, by complying with the standards of various health-related international organizations. The pharmaceutical manufacturing industry is equally divided into factory and discrete operations. Automation systems are applicable in the primary manufacturing of API (Active Pharmaceutical Ingredients). Both factory and discrete automation are applicable for secondary manufacturing of formulation and packaging, which includes compounding, filling, washing, labeling, and packaging.
Smart factory enables companies to improve the design and manage their manufacturing process. It also ensures quality control and inspections in the pharmaceutical industry. Technologies, like Machine Vision and Robotics, are one of the rapidly increasing smart factory equipment in the pharmaceutical factories, in order to avoid human contact and maintain the quality of the end product. With stricter government regulations, all over the globe, in the healthcare industry, the pharmaceutical factories are expected to turn toward smart factories in the near future.
Key Developments
November 2017 - Siemens expanded its Simatic S7-1500 Advanced Controller portfolio for more challenging applications, in order to include a new type of multifunctional platform that combines control and PC functions in a single device. Two new technology CPUs also broadened the portfolio for midrange Motion Control tasks.
November 2017 - Schneider Electric launched a new service that is designed to help industrial manufacturers modernize their programmable logic control (PLC) systems, safely. By reducing downtime and disruption to the operation, the service may provide an easier migration to the company's Modicon M580 programmable automation controllers.
September 2017 - ABB acquired GE Industrial Solutions, to strengthen its global position in electrification. This acquisition has expanded ABB's access to the North American market, through deep customer relationships, large installed base, and extensive distribution networks.
Reasons to Purchase this Report
The growing rate of adoption of IoT acting as a driver to the global market scenario
Various perspectives of the market, with the help of Porter's five forces analysis
Solutions and type of automation expected to dominate the market
Regions expected to witness the fastest growth rates during the forecast period
The latest developments, market shares, and strategies that are employed by the major market players
3 months analyst support, along with the Market Estimate sheet (in excel)
Customization of the Report
This report can be customized to meet your requirements. Please connect with our representative, who will ensure you get a report that suits your needs.
1. Introduction
1.1 Study Deliverables
1.2 Study Assumptions
1.3 Market Definition
2. Research Methodology
3. Market Insights
3.1 Market Overview
3.2 Porter's Five Forces Analysis
3.2.1 Bargaining Power of Suppliers
3.2.2 Bargaining Power of Consumers
3.2.3 Threat of New Entrants
3.2.4 Threat of Substitute Product
3.2.5 Competitive Rivalry within the Industry
4. Market Dynamics
4.1 Introduction
4.2 Market Drivers
4.3 Market Restraints
4.4 Market Opportunities
4.5 Industry Value Chain
5. North America Smart Factory Market - Segmented By Product
5.1 Machine Vision Systems
5.2 Industrial Robots
5.3 Control Devices
5.4 Sensors
5.5 Communication Technologies
5.6 Others
6. North America Smart Factory Market - Segmented By Technology
6.1 PLM
6.2 HMI
6.3 ERP
6.4 MES
6.5 DCS
6.6 SCADA
6.7 PLC
6.8 Others
7. North America Smart Factory Market - Segmented By End User
7.1 Automotive
7.2 Semiconductors
7.3 Oil & Gas
7.4 Chemical & Petrochemicals
7.5 Pharmaceuticals
7.6 Aerospace & Defense
7.7 Food & Beverages
7.8 Mining
7.9 Others
8. North America Smart Factory Market - Segmented by Geography
8.1 United States
8.2 Canada
9. COMPETITIVE INTELLIGENCE
9.1 ABB Group
9.2 Cognex Corporation
9.3 Siemens AG
9.4 Schnieder Electric SE
9.5 Yokogawa Electric Corporation
9.6 Swisslog Holding AG (KUKA AG)
9.7 Rockwell Automation, Inc.
9.8 Honeywell International, Inc.
9.9 Robert Bosch GmbH.
9.10 Atos SE
9.11 Johnson Controls, Inc.
9.12 Emerson Electric Company
10. Vendor Market Share
11. Investment Analysis
12. Future of the North America Smart Factory Market