North America continues to remain as a potential region for the offshore helicopter services industry. Combined with revenues from European countries, North America grosses more than half of the total revenue for the offshore helicopter services industry. With the rising demand for energy, offshore activities, particularly exploration and production (E&P) activities by major international offshore energy companies in the offshore North America regions have recorded significant growth. This has benefitted the offshore helicopters services industry, as it is an essential part of the offshore oil & gas logistics operations, especially in the Gulf of Mexico (GOM) region. Moreover, the increased E&P activities across the deepwater and ultra-deepwater fields in GOM region, owing to the recovery of crude oil prices to sustainable levels, is expected to further drive the market during the forecast period.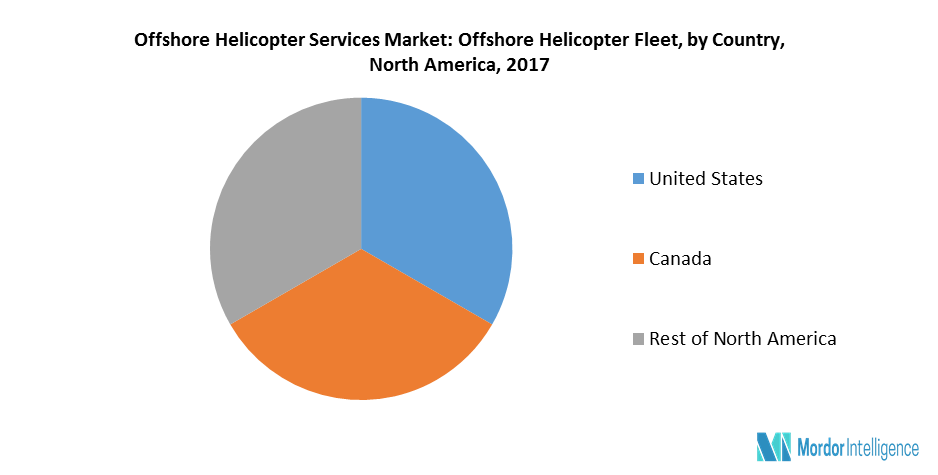 Gulf of Mexico Poised to Play a Vital Role
The US GOM is the most important offshore energy producing region, and one of the most mature oil provinces in North America. The region consists of both shallow and deepwater. A substantial number of producing fields in shallow water are in their declining phase, and therefore, the oil & gas companies are planning to move toward deepwater from shallow water.
In December 2016, British Petroleum had sanctioned the Mad Dog Phase 2 Project in the deepwater US Gulf of Mexico. The project, slated to begin production by 2021, will include a floating production platform with the capacity to produce up to 140,000 barrels of crude oil, from up to 14 production wells. Similar activities in the deepwater areas are expected to get initiated soon, which is likely to propel the demand for offshore helicopter services in GOM during the forecast period.
Deepwater exploration and production in the Gulf of Mexico are likely to drive the demand for medium and heavy helicopter, to provide necessary services to the platforms. Furthermore, with the adoption of more complex services on ultra-deepwater and deepwater installations, increased regulatory support and more frequent rotation of increasingly larger crews at regular intervals, the demand for heavy and medium helicopters in the region is expected to grow substantially during the forecast period.
Major Players: Bristow Group Inc., CHC Group Ltd, Era Group Inc., PHI Inc., Cougar Helicopters Inc., Airbus Group SE, Leonardo SpA, Textron Inc., Lockheed Martin Corporation, and Russian Helicopters JSC, among others.
Reasons to Purchase this Report
Current and future North America offshore helicopters market outlook in the developed and emerging markets.
Analyzing various perspectives of the market, with the help of Porter's five forces analysis.
The segment that is expected to dominate the market.
The countries that are expected to witness the fastest growth during the forecast period.
Identify the latest developments, market shares, and strategies employed by the major market players.
3 months analyst support along with the Market Estimate sheet (in excel).
Customization of the Report
This report can be customized to meet your requirements. Please connect with our representative, who will ensure you to get a report that suits your needs.
1. Executive Summary
2. Research Methodology
3. Market Overview
3.1 Introduction
3.2 Market Size and Demand Forecast until 2023
3.3 Recent Trends and Developments
3.4 Government Policies and Regulations
4. Market Dynamics
4.1 Drivers
4.2 Restraints
4.3 Opportunities
5. Industry Attractiveness - Porter's Five Forces Analysis
5.1 Bargaining Power of Suppliers
5.2 Bargaining Power of Consumers
5.3 Threat of New Entrants
5.4 Threat of Substitutes
5.5 Intensity of Competitive Rivalry
6. Market Segmentation and Analysis (Overview, Market Size, and Demand Forecast until 2023)
6.1 By Type
6.1.1 Light
6.1.2 Medium and Heavy
7. Regional Market Analysis (Overview, Market Size, and Demand Forecast until 2023)
7.1 United States
7.2 Canada
7.3 Rest of North America
8. Key Company Analysis* (Overview, Products & Services, Financials**, Recent Developments, and Analyst View)
8.1 Service Providers
8.1.1 Bristow Group Inc.
8.1.2 CHC Group Ltd
8.1.3 Era Group Inc.
8.1.4 PHI Inc.
8.1.5 Cougar Helicopters Inc.
8.2 OEMs
8.2.1 Airbus Group SE
8.2.2 Leonardo SpA
8.2.3 Textron Inc.
8.2.4 Lockheed Martin Corporation
8.2.5 Russian Helicopters JSC
9. Competitive Landscape
9.1 Mergers & Acquisitions
9.2 Joint Ventures, Collaborations, and Agreements
9.3 Market Share Analysis
9.4 Strategies Adopted by Leading Players
10. Appendix
10.1 Contact Us
10.2 Disclaimer
*List not Exhaustive
**Subject to availability on the public domain