The North American market for cyanoacrylate adhesives is expected to register a significant growth during the forecast period (2018 - 2023). This tremendous growth is significantly driven by the rapidly growing automotive industry.
Cyanoacrylate adhesives or super glues are solvent-free, one-part acrylate adhesives, which cure immediately on contact with the mated surface, via a reaction with surface moisture or when compressed into thin films between two substrates. The industrial cyanoacrylate (also known as instant adhesives) is a high strength adhesive, which can easily bond two dissimilar materials such as rubber and plastic. Cyanoacrylate adhesives, owing to their rapid curing speed, fast fixturing time, glossy finish, solvent-free nature, and excellent bond strength in tensile and sheer mode, are becoming an integral part of various commercial and industrial sectors.
Rapidly Growing Automotive and Furniture Industry in Mexico Driving the Market
Mexico, one of the developing economies in the world, is experiencing growth in the furniture and automotive industries. The country witnessed growth in furniture production and exports. The country is experiencing double-digit growth in the furniture production. Moreover, automotive production also witnessed y-o-y growth of 13% in 2017. This will also contribute to the market for contact adhesives during the forecast period.
Furniture Industry to Show Growth
Cyanoacrylate adhesives, owing to their characteristics and physical properties, are used in furniture made from wood, in millwork, doors, cabinetry made from wood, and laminated countertops, among others. The demand for furniture in North America is increasing due to the growth in residential and commercial construction. Moreover, there is increasing demand for rental furniture in the United States, also contributing to the demand for cyanoacrylate adhesives in the region.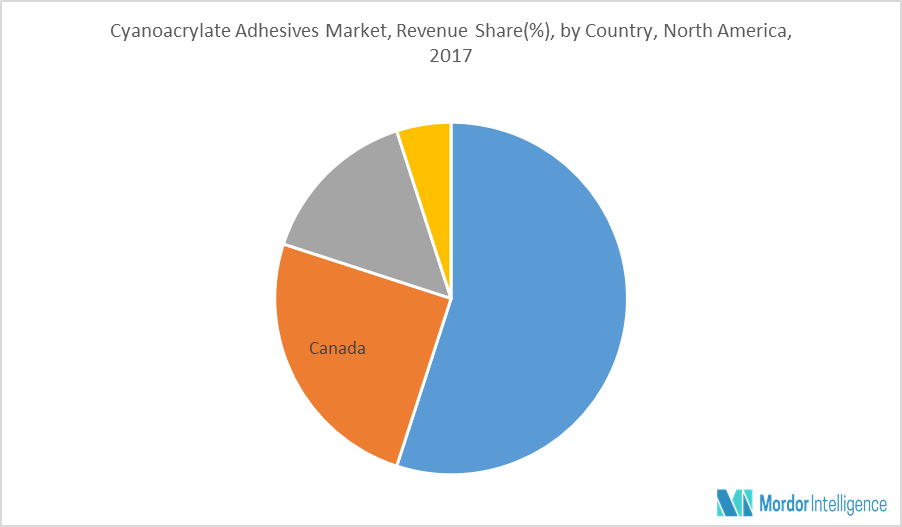 United States to Provide Significant Market Growth
In 2017, the United States accounted for the largest share of the cyanoacrylate adhesives market. The market demand for cyanoacrylate is majorly driven by continuous growth in the furniture and electronics industry. The increasing usage in medical applications such as dental and surgical processes and rising demand from the footwear and leather industries will offer numerous opportunities for the growth of the North American cyanoacrylate adhesives market.
Key Developments
February 2017: The acquisition of Cyberbond helped the global adhesives manufacturer, H.B. Fuller to quickly become a leader in the Cyanoacrylate Adhesives (CA) technology market.
Major Players: 3M, Arkema Group, H.B. Fuller Co, Henkel AG & Co. KGaA and Sika AG, and Dow Corning Corporation (DowDuPont), among others.
Reasons to Purchase the Report
Identify the current and future global cyanoacrylate adhesives market in the developed and emerging markets
Analyze various perspectives of the market with the help of Porter's five forces analysis
Information of the segment that is expected to dominate the market
Identify the region that is expected to witness fastest growth during the forecast period
Identify the latest developments, market shares, and strategies employed by the major market players
3 month analyst support, along with the Market Estimate sheet (in Excel)
Customization of the Report
This report can be customized to meet your requirements. Please connect with our representative, who will ensure you to get a report that suits your needs.
1. Introduction
1.1 Research Phases
1.2 Study Deliverables
1.3 Scope of the Report
2. Executive Summary
3. Market Insights
3.1 Industry Value Chain Analysis
3.2 Industry Attractiveness - Porter's Five Forces Analysis
3.2.1 Bargaining Power of Suppliers
3.2.2 Bargaining Power of Consumers
3.2.3 Threat of New Entrants
3.2.4 Threat of Substitute Products and Services
3.2.5 Degree of Competition
4. Market Dynamics
4.1 Drivers
4.1.1 Rapidly Growing Automotive and Furniture Industry in Mexico
4.1.2 Growing Electronics Industry
4.2 Restraints
4.2.1 Stringent Environmental Regulations
4.3 Opportunities
4.3.1 Accelerating Usage in Medical Applications
4.3.2 Other Opportunities
5. Market Segmentation and Analysis (Market Size, Growth, and Forecast)
5.1 By Type
5.1.1 Alkoxy-Ethyl-based
5.1.2 Ethyl-Ester-based
5.1.3 Methyl-Ester-based
5.1.4 Others
5.2 By End-user Industry
5.2.1 Automotive
5.2.2 Footwear & Leather
5.2.3 Furniture
5.2.4 Consumer Goods
5.2.5 Healthcare
5.2.6 Electronics
5.2.7 Others
6. Regional Market Analysis (Market Size, Growth, and Forecast)
6.1 United States
6.2 Canada
6.3 Mexico
6.4 Rest of North America
7. Competitive Landscape
7.1 Mergers & Acquisitions, Joint Ventures, Collaborations, and Agreements
7.2 Market Share Analysis**
7.3 Strategies Adopted by Leading Players
8. Company Profiles (Overview, Financials**, Products & Services, and Recent Developments)
8.1 3M
8.2 Arkema Group (Bostik SA)
8.3 American Chemical Inc.
8.4 Adhesive Technologies Inc. (AdTech)
8.5 Benson Polymers Limited
8.6 Chemence Ltd
8.7 DELO Industrial Adhesives
8.8 Dow Corning Corporation (DowDuPont)
8.9 Dymax
8.10 Franklin International
8.11 H.B. Fuller Co.
8.12 Henkel AG & Co. KGaA
8.13 ITW Performance Polymers (Illinois Tool Works Inc.)
8.14 Jowat AG
8.15 Mapei Spa
8.16 Master Bond
8.17 Pidilite Industries Ltd
8.18 Sika AG
8.19 Super Glue Corp.
8.20 Tesa SE (A Beiersdorf Company)
*List not exhaustive
9. Disclaimer
** Subject to availability on public domain