The noble gas market is expected to grow gradually during the forecast period (2018 – 2023). This growth is estimated due to the rising number of applications in various sectors, such as oil & gas, chemical, mining, power, energy-efficient buildings, surgery, semiconductors, aerospace, as well as steel and aluminum industries.
Wide Application in Healthcare Industry
Noble gases have found usage in a wide range of application. They have the highest demand in the medical sector since they are involved in the cooling of superconducting magnets in the magnetic resonance imaging (MRI) scanners. Helium has been effective in a variety of respiratory conditions, including upper airway obstruction, asthma exacerbation, post-extubation strido, etc. Microscopy has opened exciting new possibilities for the use of helium gas in the technologically advanced fields of medicine. Surgeons are currently exploring to know whether helium can be used instead of carbon dioxide to insufflate the abdomen of patients undergoing laparoscopic abdominal procedures.
The rising demand for neon from the pharmaceutical sector is expected to significantly help in the growth of the noble gas market. Rising health concerns and focus towards the medical sector in developing economies, mainly in the Asia-Pacific region, such as India and China, have witnessed a great demand for such gases.
Structural and regulatory restrictions may act as a barrier for the future growth of the specialty gas industry. Also, safety regulations pose a challenge for the growth of the market.
Revamping of Helium Industry
Helium has the largest market share in the global noble gas market, due to its abundant availability in natural air and economical cost. With limited producers, helium industry has been revamping to bring new capacity online around the world and unearth innovative new means of sourcing. The end-users, meanwhile, have been actively pursuing recovery and recycling technologies. This will open up opportunities for new players into the market, as there is a growing demand for helium. Advancements in technologies will help to bring new recycling techniques into the market, thereby, increasing opportunities for the market.
North America Dominates the Market
North America holds the highest market share in terms of revenue, due to the increasing demand for consumer and investment goods, especially in the United States. Moreover, the reserves in the country are declining due to a high production and consumption. It is estimated that the noble gas market in North America will witness a healthy growth, on account of the high demand from aerospace and laser applications from the United States and Canada. The presence of large manufacturing industries associated with construction, healthcare, automobiles, and semiconductors is expected to be a factor that will support the growth of the noble gases market in the region.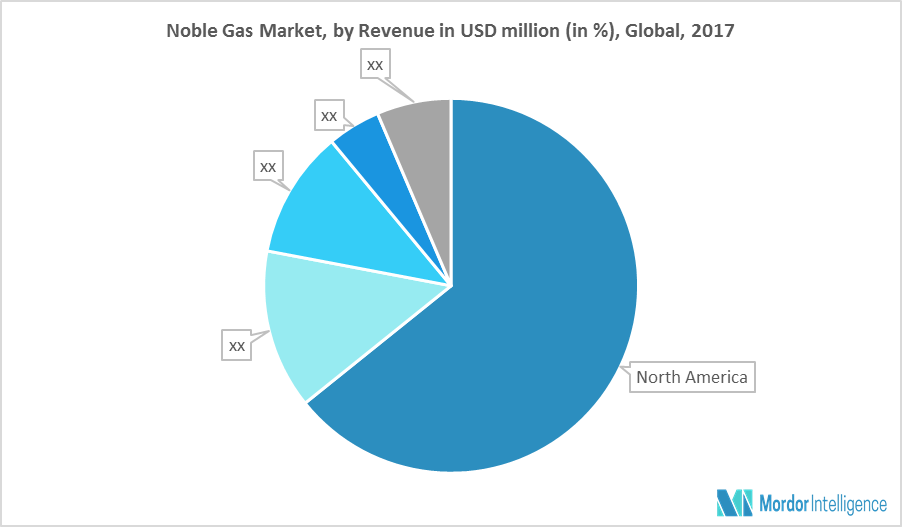 Key Developments in the Market
January 2018: Shell and ITM Power will build the world's largest hydrogen electrolysis plant at Rhineland Refinery, Germany.
February 2017: The energy companies have signed binding agreements to provide 64 BCM of gas to Egypt's Dolphinus Holdings.
Major Players: Shell, ITM Power, BASF, Linde, Messer, Proton Gas, Taiyo Nippon Sanso, and Praxair Inc., among others.
Reasons to Purchase this Report
To understand the impact of end-user applications on the market
Analyzing various perspectives of the market with the help of Porter's five forces analysis
Identifying the countries that are expected to witness the fastest growth during the forecast period
Identify the latest developments, market shares, and strategies employed by the major market players
3-month analyst support, along with the Market Estimate sheet (in Excel)
Customization of the Report
This report can be customized to meet your requirements. Please connect with our representative, who will ensure you get a report that suits your needs
1. Introduction
1.1 Research Phases
1.2 Scope of the Market
1.3 Study Deliverables
2. Executive Summary
3. Market Insights
3.1 Industry Value Chain Analysis
3.2 Industry Attractiveness - Porter's Five Forces Analysis
3.2.1 Bargaining Power of Suppliers
3.2.2 Bargaining Power of Consumers
3.2.3 Threat of New Entrants
3.2.4 Threat of Substitute Products and Services
3.2.5 Degree of Competition
4. Market Dynamics
4.1 Drivers
4.1.1 Diversified Use in various Industries
4.1.2 Increasing Demand in the Developing Economies
4.1.3 Growing Needs for Energy-Efficient Solutions
4.1.4 Growing Demand in the Health and Care Industry
4.2 Restraints
4.2.1 Low Reserves in America
4.2.2 Economic Slowdown in America and Europe
4.2.3 Evolution of Substitutable Technologies
4.3 Opportunities
4.3.1 Rapidly Increasing Demand in Developing Economies
4.3.2 Energy-Efficiency Needs
5. Market Segmentation and Analysis (Market Size, Growth, and Forecast)
5.1 By type
5.1.1 Helium
5.1.2 Krypton
5.1.3 Argon
5.1.4 Neon
5.1.5 Xenon
5.1.6 Radioactive Radon
5.2 By Application
5.2.1 Picture Projection
5.2.2 Anesthetic
5.2.3 Welding
5.2.4 Insulation
5.2.5 Lighting
5.2.6 Television Tubes
5.2.7 Advertising
5.2.8 Refrigerant
5.2.9 Working Fluid
5.2.10 Chemical Analysis
5.3 By End-user Industry
5.3.1 Oil & Gas
5.3.2 Mining
5.3.3 Health and Care
5.3.4 Aerospace
5.3.5 Energy Efficient Buildings
5.3.6 Power
6. Regional Market Analysis (Market Size, Growth, and Forecast)
6.1 Asia-Pacific
6.1.1 China
6.1.2 India
6.1.3 Japan
6.1.4 South Korea
6.1.5 Rest of Asia-Pacific
6.2 North America
6.2.1 United States
6.2.2 Canada
6.2.3 Mexico
6.2.4 Rest of North America
6.3 Europe
6.3.1 Germany
6.3.2 United Kingdom
6.3.3 Italy
6.3.4 Spain
6.3.5 France
6.3.6 Rest of Europe
6.4 South America
6.4.1 Brazil
6.4.2 Argentina
6.4.3 Rest of South America
6.5 Middle East & Africa
6.5.1 Saudi Arabia
6.5.2 South Africa
6.5.3 Rest of Middle East & Africa
7. Future of the Market
8. Competitive Landscape
8.1 Mergers and Acquisitions, Joint Ventures, Collaborations and Agreements
8.2 Market Share Analysis**
8.3 Strategies Adopted by Leading Players
9. Company Profiles (Overview, Financials**, Products & Services and Recent Developments)
9.1 Praxair
9.2 Air Liquide
9.3 Airgas, Inc.
9.4 BASF SE
9.5 Linde
9.6 Messer
9.7 Buzwair
9.8 American Gas
9.9 Gulf Cryo
9.10 Proton Gases
9.11 Taiyo Nippon Sanso
9.12 Air Products and Chemicals, Inc.
9.13 Gazprom
9.14 Core Gas
9.15 Proton Gas
9.16 ITM Power
9.17 Shell
9.18 Ras Gas Company Limited
*List not exhaustive
10. Disclaimer
**Subject to availability on public domain