The Middle East & Africa hot-melt adhesives market is expected to register a moderate CAGR during the forecast period, 2018 to 2023. Saudi Arabia is estimated to lead the market owing to its rapid increase in demand from the packaging industry. Paper, board & packaging segment is expected to be the fastest growing by end-user industry.
Increasing Usage as Substitute for Solvent-borne Adhesives
Hot-melt adhesives contain 100% solids and do not contain solvents. Hot-melt adhesives combine different positive attributes found in various unique adhesives. Most solvent-based adhesives contain flammable solvents, which require critical precautions for safe handling. In addition, the solvent-borne adhesives are not recommended, owing to environmental concerns related to emissions. Hot-melt adhesives have numerous advantages over solvent-based adhesives, which include: the removal of hazardous air pollutants (HAPs) and volatile organic compounds (VOCs), plant explosion risk is eliminated, which corresponds to lower insurance costs, fast setup time, and reduced cost, and there is no requirement for air pollution control devices in hot-melt adhesive systems. Odor elimination is the additional benefit of the hot-melt adhesives, which has assisted in driving the replacement of solvent-based adhesives. Elimination of odor is a key priority for the packaging industry. In packaging materials, most odors are related to the solvent used in adhesives. Odors stem not only from solvents, but also, from the thermal and UV degradation of the solvents.
Paper, Board & Packaging - The Fastest Growing End-user Industry
An extremely high proportion of all industrial products are sold in packaging – either due to stability requirements for storage & transport or for aesthetic reasons. Applications of hot-melt adhesives range from corrugated box construction and lamination of printed sheets, to packaging materials used for all types of consumer products and the production of large industrial tubes and cores. Although normal envelopes and paper bags consist of just a single layer of material, most packaging materials used nowadays are of different materials laminated together. The improvement in living standards and higher incomes, have increased the demand for a broad range of products, all of which require packaging. Therefore, the demand for packaging has increased the demand for hot-melt adhesives. The production of tapes and labels has been experiencing immense growth. The demand for books and related materials is expected to increase with the increasing population and literacy rate, which would further drive the market for hot-melt adhesives in the forecast period (2018-2023).
Saudi Arabia to Lead the Market
Saudi Arabia, the oil-rich country, has an emerging economy that has slowed down in 2017 over 2016, due to low crude oil prices and the country's regulatory policy. The country has generated large-scale projects worth USD 800 billion to boost its infrastructure in the coming years. Saudi Arabia's major initiatives concerning infrastructural development included White Land Tax Initiative and Transport Infrastructure Development plan in Riyadh. The country's primary growth in construction has been largely powered by the massive investments done by the government and increased inflow of FDI. Some of the major construction projects are: Junail II, Makkah Grand Mosque Redevelopment, Jeddah and Riyadh Metro, King Abdullah Port Expansion, The Kingdom Tower (Jeddah), King Abdullah Economics City of Rabigh, etc. Furthermore, the country is experiencing a steady growth in new car sales, with the market expecting to reach one million units by 2020, growing at a rate of 6.7% per annum. According to the General Authority for Statistics, automotive sector is expected to witness a growth rate of around 4%-5% every year in the next decade.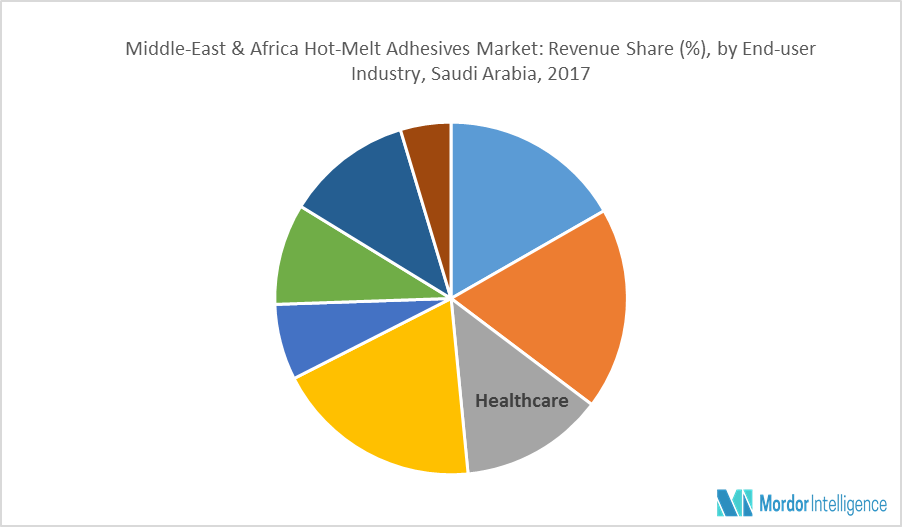 Notable Developments in the Market
October 2017: H.B. Fuller's finalized its acquisition of Royal Adhesives & Sealants for USD 1.575 billion. This acquisition is likely to deepen H.B. Fuller's expertise in a range of sectors, such as medical, electronics, hygiene, transportation, construction, clean energy, and others
January 2017: H.B. Fuller Company acquired the industrial adhesives business of Wisdom Worldwide Adhesives
Major Players: Henkel AG, HB Fuller, Arkema, Sika AG, and 3M, among others.
Reasons to Purchase this Report
To understand the impact of end-user applications on the market
Analyzing various perspectives of the market with the help of Porter's five forces analysis
To understand the dominating technology in the market
Countries expected to witness the fastest growth during the forecast period
Identifying the latest developments, market shares, and strategies employed by the major market players
3-month analyst support, along with the Market Estimate sheet (in Excel)
Customization of the Report
This report can be customized to meet your requirements. Please connect with our representative, who will ensure you to get a report that suits your needs
1. Introduction
1.1 Research Phases
1.2 Study Deliverables
1.3 Scope of the Report
2. Executive Summary
3. Market Insights
3.1 Industry Value Chain Analysis
3.2 Industry Attractiveness - Porter's Five Forces Analysis
3.2.1 Bargaining Power of Suppliers
3.2.2 Bargaining Power of Consumers
3.2.3 Threat of New Entrants
3.2.4 Threat of Substitute Products and Services
3.2.5 Degree of Competition
4. Market Dynamics
4.1 Drivers
4.1.1 Increasing Usage as Substitute for Solvent-Borne Adhesives
4.1.2 Growing Demand from Packaging Industry
4.2 Restraints
4.2.1 Volatility in Availability and Price of Raw Material
4.2.2 Other Restraints
4.3 Opportunities
4.3.1 Adoption of Bio-Based Hot Melt Adhesives
4.3.2 Innovative Product Development To Gain Competitive Edge
5. Market Segmentation and Analysis (Market Size, Growth, and Forecast)
5.1 By Resin Type
5.1.1 Thermoplastic Polyurethane
5.1.2 Ethylene Vinyl Acetate
5.1.3 Styrenic-Butadiene copolymers
5.1.4 Polyolefins
5.1.5 Polyamide
5.1.6 Others
5.2 By End-user Industry
5.2.1 Building & Construction
5.2.2 Paper, Board & Packaging
5.2.3 Woodworking & Joinery
5.2.4 Transportation
5.2.5 Footwear & Leather
5.2.6 Healthcare
5.2.7 Electronics
5.2.8 Others
6. Regional Market Analysis (Market Size, Growth, and Forecast)
6.1 Saudi Arabia
6.2 United Arab Emirates
6.3 Qatar
6.4 South Africa
6.5 Kuwait
6.6 Iran
6.7 Rest of Middle East & Africa
7. Competitive Landscape
7.1 Mergers and Acquisitions, Joint Ventures, Collaborations and Agreements
7.2 Market Share Analysis**
7.3 Strategies Adopted by Leading Players
8. Company Profiles (Overview, Financials**, Products & Services, and Recent Developments)
8.1 3M
8.2 Arkema Group (Bostik Sa)
8.3 Ashland Inc.
8.4 Avery Dennison Corporation
8.5 Beardow & Adams
8.6 Drytac
8.7 H.B. Fuller Co.
8.8 Henkel Ag & Co.
8.9 Hexcel Corporation
8.10 Huntsman International LLC
8.11 Jowat AG
8.12 Lord Corporation
8.13 Paramelt B.V.
8.14 Sika AG
8.15 Tesa SE
8.16 Texyear Industrial Adhesives Pvt. Ltd.
*List not exhaustive
9. Disclaimer
**Subject to availability on public domain