The power market in the Middle East & African region is transforming as energy independence and economic diversification play a more prominent role. The Middle East & Africa is home to few of the most significant oil-producing nations, which is making the switch in the new era for electricity generation, with the higher influx of natural gas and renewables. The power demand in the Middle Eastern countries is expected to grow by 3.3% every year, until 2035, with the population expected to register even faster rate. The Middle Eastern region is expected to need an additional 277 gigawatts (GW) of generation capacity to meet the growing demand for electricity. The demand for power in the African region is also expected to experience double-digit growth during the same period. Factors, such as concerns over distribution losses and poor energy efficiency, are creating a favorable environment for smart grid initiatives in the region. Additionally, throughout the region, large-scale deployment of renewable power is expected to require grid modernization in the Middle East & African region, supplementing the demand for demand response management systems during the forecast period.
Growing Electricity Consumption Driving the Market
Electricity consumption in the Middle East & African countries has been climbing steadily for the past few decades. The demand for electricity in Saudi Arabia is growing at an accelerating rate due to higher consumption rates in the private, commercial, and industrial sectors. On account of high disposable incomes; hot summers (usually temperatures reach up to 45 °C during summers); and widespread use of electrical appliances in the country, the electricity peak demand in the United Arab Emirates (UAE) has almost doubled over the past ten years. The per capita electricity consumption in UAE (about 11,290 kWh per capita in 2016) is one of the highest in the world (nearly 3,300 kWh per capita in 2016). Other countries of the region are also witnessing similar growth. Therefore, there is a rising need to curb the increasing electricity demand and to promote energy conservation in the region. There is rising demand for the implementation of smart grid dynamic solution in the region, which could bridge the gap between the current supply and increasing demand. Furthermore, implementation of smart grid initiatives could also solve the problem of energy efficiency in the region, which is expected to drive the demand for demand response management systems.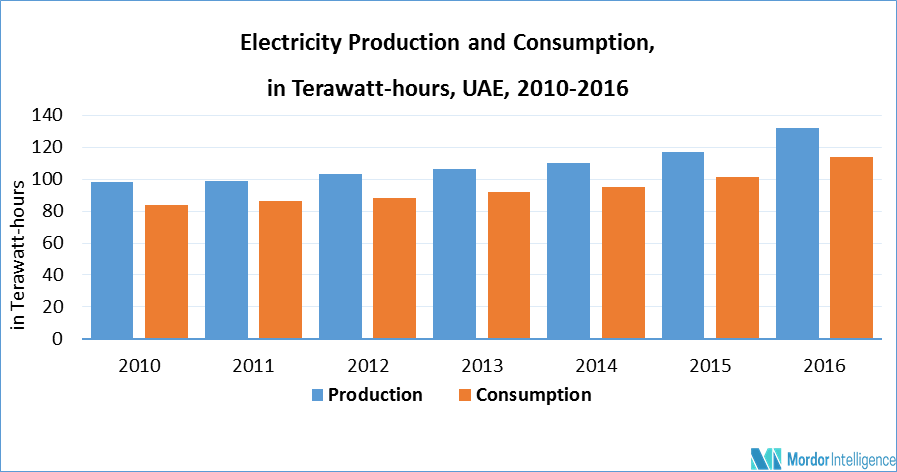 Implementation of Automated Demand Response to Increase in UAE
UAE has set itself an ambitious target to achieve around 10% use of its renewable energy, and 25% in power generation mix by 2030. The country has focused on developing world-class power infrastructure, in order to become a power exporter to other GCC nations. In accordance with Dubai Clean Energy Strategy 2050, Dubai is expected to install efficient energy consuming infrastructure (such as air conditioning systems, lighting, and improving building systems), in adherence with the demand-side management strategy to reduce the energy demand by 30%, by 2030. Automated Demand Response Management Systems (ADRMS) are expected to help the nation in decreasing the country's consumption and efficiently allocating the unused energy to be exported. Masdar city was the first place in UAE to have smart grid infrastructure, which made use of ADRMS. Masdar city relies on solar energy and other renewable energy sources to function. Deployment of similar ADRMS initiatives is expected to witness high growth in other cities of UAE, presenting an optimal opportunity for companies involved to expand their business presence.
Key Developments in the Market
October 2017: DEWA appointed Honeywell to deliver smart energy to Dubai
Major Players: ABB Ltd, Siemens AG, Honeywell International Inc., Schneider Electric SE, Saudi Electricity Company, General Electric Company, EnerNOC Inc., Itron Inc., Mitsubishi Electric Corporation, and Eskom Holdings SOC Ltd, among others.
Reasons to Purchase the Report
Current and future Middle East & Africa demand response management systems market outlook in the developed and emerging countries
Analyzing various perspectives of the market with the help of Porter's five forces analysis
The segment that is expected to dominate the market
Countries that are expected to witness the fastest growth during the forecast period
Identify the latest developments, and strategies employed by the major market players
3-month analyst support, along with the Market Estimate sheet (in excel)
Customization of the Report
This report can be customized to meet your requirements. Please connect with our representative, who will ensure you to get a report that suits your needs.
1. Executive Summary
2. Research Methodology
3. Market Overview
3.1 Introduction
3.2 Market Size and Demand Forecast until 2023
3.3 Recent Trends and Developments
3.4 Government Policies and Regulations
4. Market Dynamics
4.1 Drivers
4.2 Restraints
4.3 Opportunities
5. Supply Chain Analysis
6. Industry Attractiveness - Porter's Five Forces Analysis
6.1 Bargaining Power of Suppliers
6.2 Bargaining Power of Consumers
6.3 Threat of New Entrants
6.4 Threat of Substitute Products & Services
6.5 Intensity of Competitive Rivalry
7. Market Segmentation and Analysis (Overview, Market Size, and Demand Forecast until 2023)
7.1 By System Type
7.1.1 Conventional Demand Response
7.1.2 Automated Demand Response
8. Regional Market Analysis (Overview, Market Size, and Demand Forecast until 2023)
8.1 Saudi Arabia
8.2 UAE
8.3 South Africa
8.4 Iran
8.5 Rest of Middle East & Africa
9. Key Company Analysis* (Overview, Products & Services, Financials**, Recent Development, and Analyst View)
9.1 ABB Ltd
9.2 Siemens AG
9.3 Honeywell International Inc.
9.4 Schneider Electric SE
9.5 Saudi Electricity Company
9.6 General Electric Company
9.7 EnerNOC Inc.
9.8 Itron Inc.
9.9 Mitsubishi Electric Corporation
9.10 Eskom Holdings SOC Ltd
10. Competitive Landscape
10.1 Mergers & Acquisitions
10.2 Joint Ventures, Collaborations and Agreements
10.3 Strategies Adopted by Leading Players
11. Disclaimer
(*List of companies is not exhaustive)
(**Subject to availability on public domain)