The increasing efficiency and reducing cost of lighting management systems are making them an economically preferred option. The growing construction industry, particularly in developing countries, is expected to drive the market during the forecast period (2018 – 2023­).
Better Efficiency of Lighting Management System is Expected to Drive the Market
The lighting management systems provide a better efficiency compared to the conventional switch operated lighting system. The technological advancements are making these systems more efficient and less expensive, which in turn are making them more attractive in terms of economic viability. These factors are driving the lighting management system demand. The lack of residential consumer awareness, particularly in developing countries, is a major restraint for the market.
Growing Construction Sector in Asia-Pacific Region to Drive the Market
Asia-Pacific region has the biggest construction sector in the world. This region comprises emerging countries, like India and China that are investing heavily in infrastructure projects. This region has one of the fastest growing population, which coupled with rapid urbanization and economic growth in the regions, is expected to drive the private construction sector. Apart from that, the region also has one of the fastest growing industrial sectors. The growing government, industrial, commercial, and residential sector infrastructure project are expected to support a substantial growth rate of the market during the forecast period.
UAE to Register Significant Growth During the Forecast Period
Dubai is hosting the World Expo event that is to be held in 2020. The construction projects related to Expo 2020 gained a full momentum during 2017. Dubai is considered one of the most stable markets in the region. The Expo 2020 is expected to help attract more Foreign Direct Investment, particularly in the construction sector. It is estimated that Expo 2020 project will create about 300,000 direct jobs and hence, a large influx of immigrants is expected to fill the required workforce, which, in turn, is expected to drive the demand for residential construction projects. Another driver for the construction market in the country is oil price recovery. Government spending dominates the construction industry in the country. Majority of UAE's revenue comes from upstream oil & gas industry. As a result, after the oil price crisis in mid-2014, the spending on the construction sector in the country declined. But after the recovery in oil prices during 2016-17, the construction industry gained positive momentum. The increasing investments in the construction industry are expected to support the growth of the market during the forecast period in the country.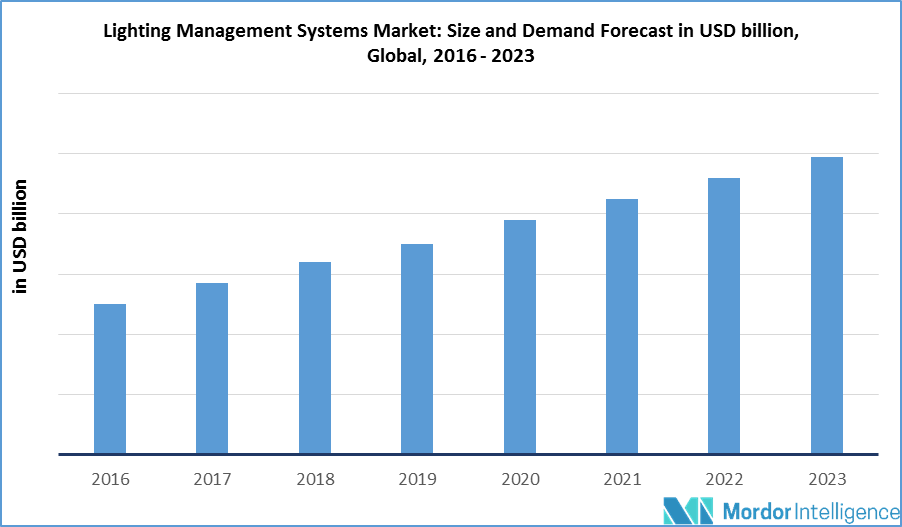 Key Developments in the Market
March 2018: Tata Communication announced that it plans to install 15,000 street lights in Jamshedpur city of India that will be managed through the internet in partnership with an Internet of Things (IoT) services provider Motwane. TATA Communication has already installed 300 smart street lights
Major Players: Legrand, Osram Gmabh, Schneider Electric, General Electric, LG Electronics, Siemens AG, Harman International, Hubbell, Honeywell International, Inc., Sternberg Lighting, Lighting Holding B.V., Leviton Manufacturing Co. Inc., Echelon Corporation, Lutron Electronics Co. Inc., Acuity Brands Lighting Inc, among others.
Reasons to Purchase This Report
Current and future global lighting management systems market outlook in the developed and emerging markets
Analyzing various perspectives of the market with the help of Porter's five forces analysis
The segment that is expected to dominate the market
Regions that are expected to witness fastest growth during the forecast period
Identifying the latest developments, market shares, and strategies employed by the major market players
3-month analyst support, along with the Market Estimate sheet in excel
Customization of the Report
This report can be customized to meet your requirements. Please connect with our representative, who will ensure you get a report that suits your needs
1. Executive Summary
2. Research Methodology
3. Market Overview
3.1 Introduction
3.2 Market Size and Demand Forecast until 2023
3.3 Recent Trends and Developments
3.4 Government Policies and Regulations
4. Market Dynamics
4.1 Drivers
4.2 Restraints
4.3 Opportunities
5. Value Chain Analysis
6. Industry Attractiveness - Porter's Five Forces Analysis
6.1 Bargaining Power of Suppliers
6.2 Bargaining Power of Consumers
6.3 Threat of New Entrants
6.4 Threat of Substitutes
6.5 Intensity of Competitive Rivalry
7. Market Segmentation and Analysis (Overview, Market Size, and Demand Forecast unitl 2023)
7.1 By Hardware
7.1.1 Dimmers
7.1.2 Sensors
7.1.3 Switches
7.1.4 LED Drivers
7.1.5 Others
7.2 By Connectivity
7.2.1 Wired
7.2.2 Wireless
7.1 By End-user
7.1.1 Industrial
7.1.2 Commercial
7.1.3 Residential
7.1.4 Government
8. Regional Market Analysis (Overview, Market Size, and Demand Forecast unitl 2023)
8.1 North America
8.1.1 United States
8.1.2 Canada
8.1.3 Rest of North America
8.2 Asia-Pacific
8.2.1 China
8.2.2 South Korea
8.2.3 India
8.2.4 Rest of Asia-Pacific
8.3 Europe
8.3.1 Germany
8.3.2 France
8.3.3 United Kingdom
8.3.4 Rest of Europe
8.4 Middle East
8.4.1 Saudi Arabia
8.4.2 UAE
8.4.3 South Africa
8.4.4 Rest of Middle East & Africa
8.5 South America
8.5.1 Brazil
8.5.2 Argentina
8.5.3 Rest of South America
9. Key Company Analysis* (Overview, Products & Services, Financials**, Recent Development, and Analyst View)
9.1 Legrand
9.2 Osram Gmabh
9.3 Schneider Electric
9.4 General Electric
9.5 LG Electronics
9.6 Siemens AG
9.7 Harman International
9.8 Hubbell
9.9 Honeywell International, Inc.
9.10 Sternberg Lighting
9.11 Lighting Holding B.V.
9.12 Leviton Manufacturing Co. Inc.
9.13 Echelon Corporation
9.14 Lutron Electronics Co. Inc.
9.15 Acuity Brands Lighting Inc.
10. Competitive Landscape
10.1 Mergers and Acquisitions
10.2 Joint Ventures, Collaborations, and Agreements
10.3 Strategies Adopted by Leading Players
11. Appendix
11.1 Contact Us
11.2 Disclaimer
*List not Exhaustive
**Subject to availability to public domain