The turbomachinery market is dependent on the upstream, midstream, and downstream sectors. The outlook for the upstream sector is expected to be positive with the rising crude oil price. The midstream sector is driven by the under construction and upcoming natural gas infrastructure, led by North America. Asia-Pacific is expected to be the biggest market for the downstream sector, due to its growing population and rapid urbanization and industrialization. Growth in the three sectors is expected to drive the turbomachinery market.
Growing Gas Demand to Drive the Turbomachinery in Midstream Sector
Increasing power demands in emerging markets, such as India, China, Brazil, and Mexico, are expected to drive the natural gas demand in the power generation sector. Moreover, global demand for natural gas is expected to rise because natural gas is more environment-friendly compared to other fossil fuels, such as oil, and there is a global trend toward consumption of cleaner fuel, owing to concerns about air pollution and global warming. Hence, the share of the gas in total global energy consumption is expected to grow, while the share of oil is expected to drop during the forecast period. But the major impediment to the growth of gas consumption is the lack of gas transportation infrastructure, particularly in developing and undeveloped countries. But in order to meet regulations regarding air pollutions, countries, like India and China, are investing heavily in building infrastructure, such as natural gas pipeline infrastructure that includes Turbomachinery control system in compressor station. As a result, growth in the midstream sector is expected to drive the market.
North America to Lead Upstream Turbomachinery Market
The North American upstream industry is expected to grow at a faster rate due to the positive outlook in the United States and Canada. Oil production in the United States is expected to increase drastically, due to the growing production from Permian region of Texas and the Federal Gulf of Mexico. Canada presents tremendous growth opportunity for the oil & gas turbomachinery market, as the major oil reserves, like oil sand, are open to private companies and are not controlled by national oil companies. Hence, growth in the United States and private sector investments in Canada are expected to drive the upstream oil & gas turbomachinery market in North America, in the coming years. But Mexico has witnessed a decline in oil production, indicating stagnancy in the upstream industry in the country, which in turn is expected constraint the market in the region.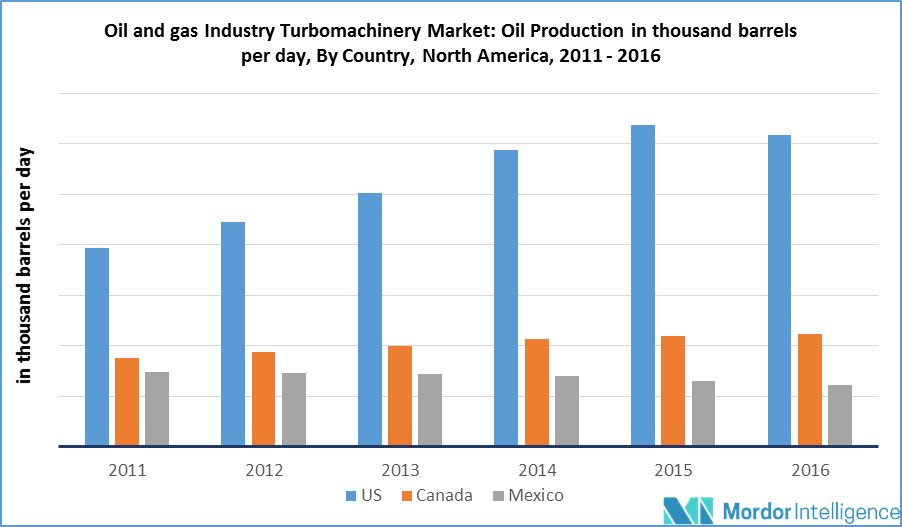 Growing Upstream and Downstream Industry to Drive Market in Saudi Arabia
The Government of Saudi Arabia has planned investments to upscale the production of hydrocarbons, and maintain the dominance in the global oil & gas business. Moreover, the country has also heavily invested in downstream infrastructure. Growing upstream and downstream industry is expected to drive the oil & gas turbomachinery market in the country. Additionally, Saudi Arabia is highly dependent on oil to meet its energy needs. The government is taking steps to increase the consumption of gas to reduce the oil consumption, which will allow Saudi Arabia to export more oil. In order to encourage the use of the gas, the country is investing in the midstream gas industry, which in turn is expected to drive the gas compressor demands in the country. The growing gas compressor demand is expected to support the growth of the oil & gas industry turbomachinery market, during the forecast period.
Key Developments in the Market
February 2018: Maersk Oil has awarded to contract to Baker Hughes GE (BHGE) to provide turbomachinery for Tyra field redevelopment project in Danish North Sea area. The order includes seven compressor trains, equipped with active magnetic bearing (AMB) solution for driver and driven equipment.
Major Players: General Electric, Siemens AG, Sulzer Ltd, Air Products & Chemicals Inc., MAN Diesel & Turbo, Caterpillar, Elliott Group, Atlas Copco, Kobe Steel Ltd, Galileo Technologies S.A., among others.
Reasons to Purchase This Report
Current and future oil & gas industry turbomachinery market outlook in the developed and emerging markets
Analyzing various perspectives of the market with the help of Porter's five forces analysis
The segment that is expected to dominate the market
Regions that are expected to witness the fastest growth during the forecast period
Identify the latest developments, market shares, and strategies employed by the major market players
3 months analyst support, along with the Market Estimate sheet (in excel)
Customization of the Report
This report can be customized to meet your requirements. Please connect with our representative, who will ensure you get a report that suits your needs.
1. Executive Summary
2. Research Methodology
3. Market Overview
3.1 Introduction
3.2 Market Size and Demand Forecast until 2023
3.3 Recent Trends and Developments
3.4 Government Policies and Regulations
4. Market Dynamics
4.1 Drivers
4.2 Restraints
4.3 Opportunities
5. Value Chain Analysis
6. Industry Attractiveness - Porter's Five Forces Analysis
6.1 Bargaining Power of Suppliers
6.2 Bargaining Power of Consumers
6.3 Threat of New Entrants
6.4 Threat of Substitutes
6.5 Intensity of Competitive Rivalry
7. Market Segmentation and Analysis (Overview, Market Size, and Demand Forecast until 2023)
7.1 By Location of Deployment
7.1.1Onshore
7.1.2 Offshore
7.2 By Type
7.2.1 Gas & Steam Turbine
7.2.2 Gas Compressor
7.2.3 Pump
7.2.4 Others
7.3 By Sector
7.3.1 Upstream
7.3.2 Midstream
7.3.3 Downstream
8. Regional Market Analysis (Overview, Market Size, and Demand Forecast until 2023)
8.1 North America
8.1.1 United States
8.1.2 Canada
8.1.3 Mexico
8.2 Asia-Pacific
8.2.1 China
8.2.2 India
8.2.3 Malaysia
8.2.4 Rest of Asia-Pacific
8.3 Europe
8.3.1 United Kingdom
8.3.2 Norway
8.3.3 Russia
8.3.4 Rest of Europe
8.4 Middle East
8.4.1 Saudi Arabia
8.4.2 United Arab Emirates
8.4.3 Iran
8.4.4 Rest of Middle East
8.5 Africa
8.5.1 Angola
8.5.2 Egypt
8.5.3 Nigeria
8.5.4 Rest of Africa
8.6 South America
8.6.1 Brazil
8.6.2 Argentina
8.6.3 Rest of South America
9. Key Company Analysis* (Overview, Products & Services, Financials**, Recent Development, and Analyst View)
9.1 General Electric
9.2 Siemens AG
9.3 Sulzer Ltd
9.4 Air Products & Chemicals Inc.
9.5 MAN Diesel & Turbo
9.6 Caterpillar
9.7 Elliott Group
9.8 Atlas Copco
9.9 Kobe Steel Ltd
9.10 Galileo Technologies S.A.
10. Competitive Landscape
10.1 Mergers and Acquisitions
10.2 Joint Ventures, Collaborations, and Agreements
10.3 Strategies Adopted by Leading Players
11. Appendix
11.1 Contact Us
11.2 Disclaimer
*List not Exhaustive
**Subject to availability on public domain