The oil price crisis after mid-2014 has had an adverse effect on offshore activity, globally. After 2016, the oil prices have witnessed a recovery. Due to the growing demand for oil & gas, recovery in oil price, and increasing number of onshore fields reaching their maturity, exploration & production activity is expected to make a shift toward deeper offshore regions, which in turn is expected to drive the market growth during the forecast period.
Change in Drilling Strategy to Restrain the Market
Despite the recovery, oil prices are still considerably low compared to 2013 levels. In order to maintain the profitable production in offshore fields, operators have focused their efforts on reducing the offshore breakeven oil production prices. Since 2015, offshore spending has been reduced significantly. Though some spending reduction is due to drop in service prices, spending has mainly declined due to better process efficiency and cost savings through sustainable exercises, such as major changes in drilling strategy to optimize production. Low oil prices have made it difficult for operators to drill in difficult terrains and develop newly discovered fields. Therefore, the majority of the offshore drilling is expected to continue in the areas that are developed and where the production infrastructure is available, which in turn is expected to restrain demand for new subsea pump during the forecast period.
Europe is Expected to Drive the Overall Market Growth During the Forecast Period
Europe has a significant share of the market, owing to offshore activity in the Russian fields and the fields in the North Sea adjoining the United Kingdom and Norway. North Sea offshore production has witnessed a substantial drop in breakeven prices, with some fields breaking even at as low as USD 25 per barrel. The low breakeven prices are expected to drive the offshore production activity in the region. Moreover, discoveries have been made in the North Sea. These discoveries are in the vicinity of developed mature fields and hence, have access to the infrastructure. Commercial production from these fields is expected to start during the forecast period. To start the production, new production infrastructure, including subsea pump, is required. The drop in breakeven cost, recovery in oil prices and commercial production from new fields are expected to drive the drive the market in the region.
China to Experience Significant Growth
Despite low oil prices, offshore activity in China has witnessed relatively higher stability compared to other oil-producing countries during 2014-17. As of May 2017, world's 5% of the total offshore fleet was active in the country. Growing industrialization, urbanization, and increasing per capita income are the drivers for the energy demand in the country. In order to meet this energy demand, the exploration & production activity, including offshore is expected to increase in China, which in turn is expected to drive the market for subsea pumps in the country.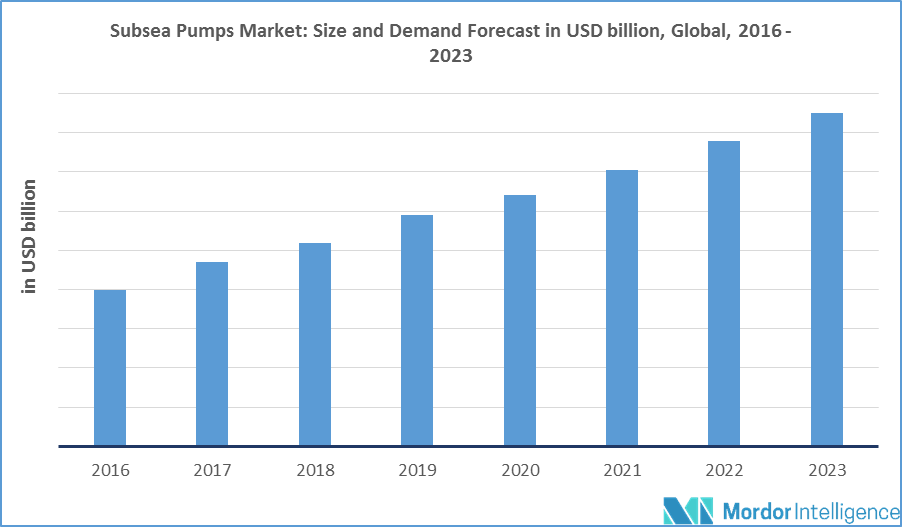 Key Developments in the Market
February 2018: Wintershall Norge AS awarded a contract to Aker solution to provide Subsea Production System, umbilical, and services for its operations in the offshore Nova oil & gas field, Norway. Aker Solutions will provide two templates with manifolds, seven subsea trees, umbilical, and tie-in equipment.
Major Players: Aker Solutions ASA, Baker Hughes A GE Co, Halliburton Company, Schlumberger Limited, Weatherford International PLC, National-Oilwell Varco Inc., Oceaneering International, TechnipFMC PLC, Kerui Group Co. Ltd, Rongsheng Machinery Manufacture Ltd, Drill-Quip Inc., among others.
Reasons to Purchase This Report
Current and future subsea pumps market outlook in the developed and emerging markets
Analyzing various perspectives of the market with the help of Porter's five forces analysis
The segment that is expected to dominate the market
Regions that are expected to witness the fastest growth during the forecast period
Identify the latest developments, market shares, and strategies employed by the major market players
3 months analyst support, along with the Market Estimate sheet (in excel)
Customization of the Report
This report can be customized to meet your requirements. Please connect with our representative, who will ensure you get a report that suits your needs.
1. Executive Summary
2. Research Methodology
3. Market Overview
3.1 Introduction
3.2 Market Size and Demand Forecast until 2023
3.3 Recent Trends and Developments
3.4 Government Policies and Regulations
4. Market Dynamics
4.1 Drivers
4.2 Restraints
4.3 Opportunities
5. Value Chain Analysis
6. Industry Attractiveness - Porter's Five Forces Analysis
6.1 Bargaining Power of Suppliers
6.2 Bargaining Power of Consumers
6.3 Threat of New Entrants
6.4 Threat of Substitutes
6.5 Intensity of Competitive Rivalry
7. Market Segmentation and Analysis (Overview, Market Size, and Demand Forecast until 2023)
7.1 By Application
7.1.2 Boosting
7.1.2 Separation
7.1.3 Injection
8. Regional Market Analysis (Overview, Market Size, and Demand Forecast until 2023)
8.1 North America
8.1.1 United States
8.1.2 Canada
8.1.3 Mexico
8.2 Asia-Pacific
8.2.1 China
8.2.2 India
8.2.3 Malaysia
8.2.4 Rest of Asia-Pacific
8.3 Europe
8.3.1 United Kingdom
8.3.2 Russia
8.3.3 Norway
8.3.4 Rest of Europe
8.4 Middle East
8.4.1 Saudi Arabia
8.4.2 UAE
8.4.3 Iran
8.4.4 Rest of Middle East
8.5 Africa
8.5.1 Angola
8.5.2 Egypt
8.5.3 Nigeria
8.5.4 Rest of Africa
8.6 South America
8.6.1 Brazil
8.6.2 Argentina
8.6.3 Rest of South America
9. Key Company Analysis* (Overview, Products & Services, Financials**, Recent Development, and Analyst View)
9.1 Aker Solutions ASA
9.2 Baker Hughes A GE Co
9.3 Halliburton Company
9.4 Schlumberger Limited
9.5 Weatherford International PLC
9.6 National-Oilwell Varco Inc.
9.7 Oceaneering International
9.8 TechnipFMC PLC
9.9 Kerui Group Co. Ltd
9.10 Rongsheng Machinery Manufacture Ltd
9.11 Drill-Quip Inc.
10. Competitive Landscape
10.1 Mergers and Acquisitions
10.2 Joint Ventures, Collaborations, and Agreements
10.3 Strategies Adopted by Leading Players
11. Disclaimer
*List not Exhaustive
**Subject to availability on public domain