Cased hole logging provides data at cheaper costs at the expense of data quality and comprehensive data collection compared to open hole logging. Due to this nature of the method, cased hole logging is generally used only during the development phase of an oil or gas field. Increased focus on the development of drilling activity, rather than exploration activity, as a result of low oil-price scenario, is expected to drive the cased hole logging market.
Change in Drilling Strategy is Expected to Drive the Cased Hole Logging Market
Oil price crisis after mid-2014 has forced the operators worldwide to cut down on operational costs in order to reduce the oil & gas production breakeven price. For example, in the United States, the shale oil breakeven prices had reduced by more than 50% during 2013—17. Some of the offshore oil fields in the North Sea now break even at as low as USD 25 per barrel. Five billion barrels of pre-sanctioned offshore oil and gas reserves globally, now breakeven at USD 50 per barrel or lower. The reduction in the oil production costs is due to better process efficiency and cost savings through sustainable exercises, such as major changes in drilling strategy to optimize the production. Due to lower oil-price scenario, this trend is expected to continue. To optimize drilling, data acquisition, such as logging data, is necessary. As cased hole logging provides the required data at a cheaper cost, the shift in upstream development strategy is expected to drive the cased hole logging services market during the forecast period.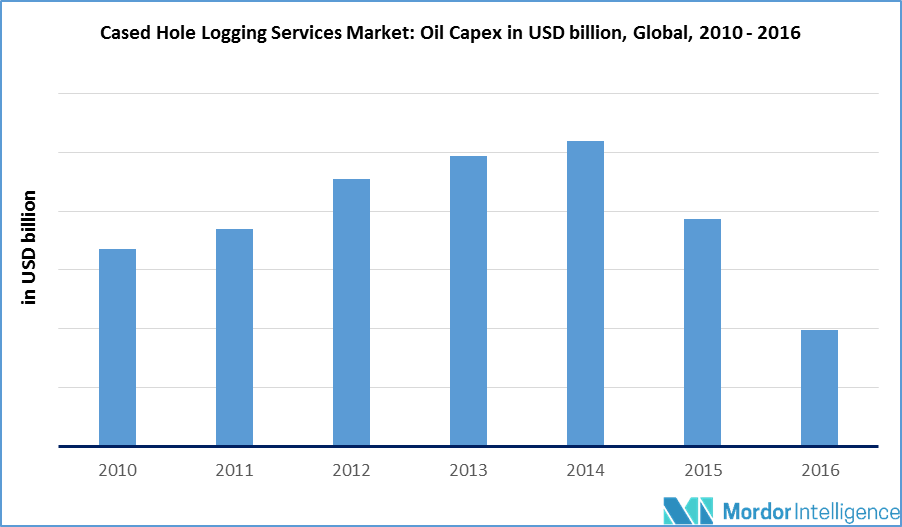 North America to Lead the Market During the Forecast Period
North America accounts for almost 21% of global crude production and 26% of global natural gas. The region has more than a million wells producing oil and gas, and hence, there is a large market for wireline logging service to support upstream activities in oilfields. In North America, the United States had the largest market share in 2017. The country had the highest number of active drilling rigs, i.e., 946, as of January 2018, highest in the region. US government policies, such as allowing exploration & production activity in almost all the US waters, coupled with an increase in oil prices during 2016—17, contributed toward driving the drilling and production activity in the country. Canada is also exploiting its shale reserves, the only country to do so after the United States. Shale accounts for 8% of Canada's total crude oil production. Several domestic and foreign players are actively exploiting the country's shale reserves. As a result, Canada provides ample opportunity for wireline logging service companies to expand their market in the country. Growing upstream activity in the United States and Canada is expected to drive the cased hole logging market in the region.
Growing Drilling Activity in India to Drive the Market
During mid-2014-16, the onshore drilling activity in India remained relatively stable despite the oil-price crisis. The offshore activity during the same period witnessed a decline. During 2016-17, the oil prices remained stable, in turn, driving the onshore and offshore drilling activity in the country. India is a net importer of oil and gas. The oil consumption in the country is expected to witness significant growth during the forecast period. The Indian government is encouraging the oil and gas exploration and production in the country in order to reduce the oil and gas imports. The increase in oil prices during the forecast period and growing consumption in the country are expected to drive the upstream activity, in turn, driving the cased hole logging market in India.
Notable Developments in the Market
June 2017: Schlumberger Limited released Pulsar Multifunction Spectroscopy Service. The service provides improved quality cased hole logging operation. The new service provides cased hole log data quality that is comparable to open hole logs.
Major Players: Baker Hughes, A GE Co., Schlumberger Limited, Halliburton Company, Nabors Industries Ltd, Weatherford, Superior Energy Services, Inc., OilServ, China Oilfield Services Market, RECON Petrotechnologies Ltd, and Pioneer Energy Services, among others.
Reasons to Purchase the Report
Current and future global cased hole logging services market outlook in the developed and emerging markets
Analyzing various perspectives of the market with the help of Porter's Five Forces analysis
The segment that is expected to dominate the market
Regions that are expected to witness the fastest growth during the forecast period
Identify the latest developments, market shares, and strategies employed by the major market players
3-month analyst support, along with the Market Estimate sheet (in excel)
Customization of the Report
This report can be customized to meet your requirements. Please connect with our representative, who will ensure you get a report that suits your needs.
1. Executive Summary
2. Research Methodology
3. Market Overview
3.1 Introduction
3.2 Market Size and Demand Forecast until 2023
3.3 Recent Trends and Developments
3.4 Government Policies and Regulations
4. Market Dynamics
4.1 Drivers
4.2 Restraints
4.3 Opportunities
5. Value Chain Analysis
6. Industry Attractiveness - Porter's Five Forces Analysis
6.1 Bargaining Power of Suppliers
6.2 Bargaining Power of Consumers
6.3 Threat of New Entrants
6.4 Threat of Substitutes
6.5 Intensity of Competitive Rivalry
7. Market Segmentation and Analysis (Overview, Market Size, and Demand Forecast until 2023)
7.1 By Wireline Type
7.1.1 E-Line
7.1.2 Slickline
8. Regional Market Analysis (Overview, Market Size, and Demand Forecast until 2023)
8.1 North America
8.1.1 United States
8.1.2 Canada
8.1.3 Mexico
8.2 Asia-Pacific
8.2.1 China
8.2.2 Malaysia
8.2.3 India
8.2.4 Rest of Asia-Pacific
8.3 Europe
8.3.1 Germany
8.3.2 France
8.3.3 Russia
8.3.4 Rest of Europe
8.4 Middle East
8.4.1 Saudi Arabia
8.4.2 UAE
8.4.3 Iran
8.4.4 Rest of Middle East
8.5 Africa
8.5.1 Angola
8.5.2 Egypt
8.5.3 Nigeria
8.5.4 Rest of Africa
8.6 South America
8.6.1 Brazil
8.6.2 Venezuela
8.6.3 Rest of South America
9. Key Company Analysis* (Overview, Products & Services, Financials**, Recent Developments, and Analyst Views)
9.1 Baker Hughes, A GE Co.
9.2 Schlumberger Limited
9.3 Halliburton Company
9.4 Nabors Industries Ltd
9.5 Weatherford
9.6 Superior Energy Services, Inc.
9.7 OilServ
9.8 China Oilfield Services Market
9.9 RECON Petrotechnologies Ltd
9.10 Pioneer Energy Services
10. Competitive Landscape
10.1 Mergers and Acquisitions
10.2 Joint Ventures, Collaborations, and Agreements
10.3 Strategies Adopted by Leading Players
11. Appendix
11.1 Contact Us
11.2 Disclaimer
*List not Exhaustive
**Subject to availability to public domain