The global automated demand response management systems (ADRMS) market value was estimated at USD 39.5 million in 2016, and it is expected to witness robust growth during 2018 - 2023 (henceforth referred to as forecast period). Globally, the rising concerns for the implementation of energy efficient management systems in stressed-out power grids, coupled with factors such as increased retirements of conventional fuel-based power plants are expected to further increase the demand for automated demand response management system during the forecast period. The adoption of technologies, such as digitalization and automation for reducing the electricity demand-supply imbalance, is expected to increase at a rapid rate during the forecast period, and it is expected to create an excellent opportunity for all companies involved in the ADRMS market.
Conventional Power Plants Retirement to Fuel the Demand
Owing to higher energy efficiency and environmental advantages offered by natural gas and renewable based power generation, there is a growing trend across the globe for shifting away from the conventional fuel such as coal and nuclear-based power generation. A rise in the retired coal power plants is observed, as compared to planned new projects, which is almost six to one in India. China is also reducing more coal power plants, as compared to its new builds, and is facing an electricity crisis, with an overall utilization of about 55% from thermal power generation. In other parts of South Asia, Europe, South America, and Africa, the retirement to completion ratio is expected to be four to one. The ratio is expected to create a load on grid stability and give rise to the demand for ADRMS, globally.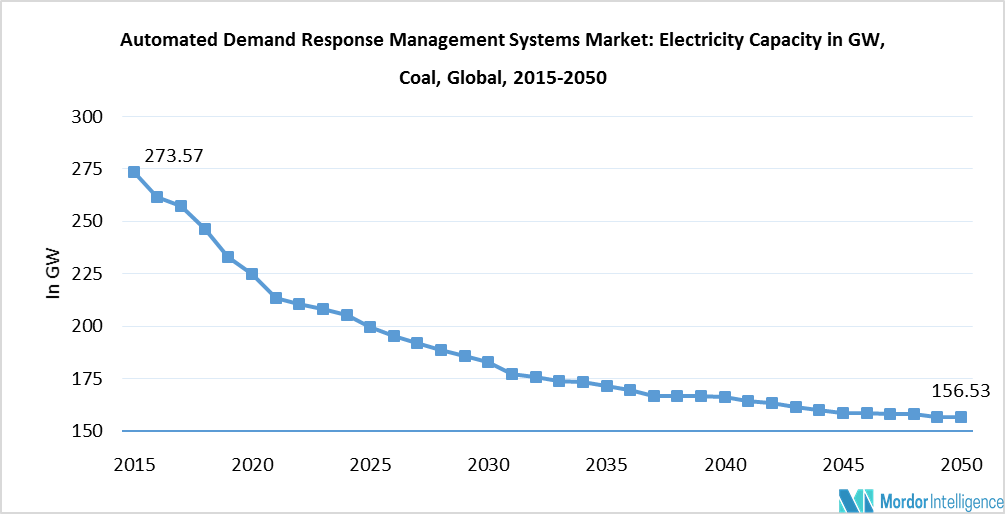 Asia-Pacific to Register Highest Market Growth
The demand for electricity has increased exponentially in Asia-Pacific owing to increased urbanization and industrialization activities. However, the transmission and distribution losses in Asia-Pacific remain the highest across the globe. Governments in Asia-Pacific countries are expected to focus extensively on improving the power infrastructure, in order to improve the efficiency and increase renewable mix in the power generation. Various pilot projects pertaining to smart grid technologies have been initiated, which is expected to offer excellent opportunities for ADRMS businesses over the forecast period. However, North America is expected to hold the largest market share during the forecast period with Europe emerging as another significant market for ADRMS business.
Quest for Energy Efficiency and Smart Pricing to fuel the demand for ADRMS in the United States
With 100% electrification rate achieved decades ago, the focus of the US Department of Energy (DOE) has not been generation of electricity in recent years. Instead, power companies are emphasizing on increasing the efficiency and implementation of smart pricing mechanism through the installation of smart meters. Deployments reached approximately 70 million smart meters by the end of 2016, and are projected to reach 90 million by 2020. Customers are also accepting ADRMS. Smart pricing programs are also increasing across the United States. Currently, millions of customers (with smart meters across the United States) are enrolled in time-based pricing programs, which reward participants for voluntarily reducing energy consumption during designated peak days, when the demand for electricity is expected to be high. The demand for ADRMS business is expected to further complement from the same, during the forecast period.
Notable Developments in the Market
MAJOR PLAYERS: Silver Spring Networks Inc., Hitachi Ltd, Mitsubishi Electric Corporation, Fujitsu Ltd, General Electric Co., Enernoc Inc., Honeywell International Inc., ABB Ltd, Schneider Electric SE, and Siemens AG
Reasons to Purchase This Report
Identify the drivers, restraints, and opportunity possessed by global automated demand response management system market with in-depth analysis.
Analyze the various perspectives of the global market dynamics with the help of Porter's five forces analysis.
Identify the largest, fastest growing, and significant regions during the forecast period with in-depth analysis.
Identify the latest developments, market shares and strategies employed by the major market players.
3 months analyst support, along with the Market Estimate sheet (in excel).
Customization of the Report
This report can be customized to meet your requirements. Please connect with our representative, who will ensure you to get a report that suits your needs.
1. Executive Summary
2. Research Methodology
3. Market Overview
3.1 Introduction
3.2 Market Size and Demand Forecast until 2023
3.3 Recent Trends and Developments
3.4 Government Policies and Regulations
4. Market Dynamics
4.1 Drivers
4.2 Restraints
4.3 Opportunities
5. Industry Attractiveness: Porter's Five Force Analysis
5.1 Bargaining Power of Suppliers
5.2 Bargaining Power of Consumers
5.3 Threat of New Entrants
5.4 Threat of Substitute Products & Services
5.5 Intensity of Competitive Rivalry
6. Global Automated Demand Response Management Systems Analysis, by Geography
6.1 North America
6.1.1 US
6.1.2 Canada
6.1.3 Rest of North America
6.2 Europe
6.2.1 France
6.2.2 Germany
6.2.3 Italy
6.2.4 UK
6.2.5 Rest of Europe
6.3 Asia-Pacific
6.3.1 Australia
6.3.2 China
6.3.3 Japan
6.3.4 South Korea
6.3.5 India
6.3.6 Rest of Asia-Pacific
6.4 South America
6.4.1 Brazil
6.4.2 Argentina
6.4.3 Colombia
6.4.4 Rest of South America
6.5 Middle East and Africa
6.5.1 UAE
6.5.2 South Africa
6.5.3 Saudi Arabia
6.5.4 Rest of Middle East and Africa
7. Key Company Analysis* (Overview, Buisness Segmentation, Financial Analysis**, Recent Development and Analyst View)
7.1 Silver Spring Networks Inc.
7.2 Hitachi Ltd
7.3 Mitsubishi Electric Corporation
7.4 Fujitsu Ltd
7.5 General Electric Co.
7.6 Enernoc Inc.
7.7 Honeywell International Inc.
7.8 ABB Ltd
7.9 Schneider Electric SE
7.10 Siemens AG
(*List of companies is not exhaustive. Please let us know if you are interested in any company profile)
8. Competitive Landscape
8.1 Mergers & Acquisitions
8.2 Joint Ventures, Collaborations and Agreements
8.3 Strategies Adopted by Leading Players
9. Appendix
9.1 Contact Us
9.2 Disclaimer
(**Subject to availability on public domain)