The Europe Waterborne Adhesive Market is expected to witness a CAGR of 5.9% during the forecast period (2018 - 2023). Europe is a dominating market with a growing population and urbanization in the developing countries. With increasing demands from the packaging and construction industries, the market will grow significantly during the forecast period.
PVA to Dominate the Market
Polyvinyl Acetate (PVA) is used in the wood industry for making complex joints. The use of PVA also provides heat resistance throughout the joint and improves the lifespan of the wood. PVA improves the UV degradability issue related to wood and imparts it higher resistance against UV radiation. These adhesives are also used in bonding paper, cardboard, wood, base and for moisture-activated bonding. Therefore, PVA is the most in-demand type of water-based adhesives because of its properties, like heat resistance, flexibility, and high strength.
Increasing Demand from Packaging Industry
Increasing awareness about the eco-friendly properties of waterborne adhesives makes it a perfect substitute for chemical adhesives. The non-reactive nature, high heat resistance, and strong bonding properties make them an ideal adhesive for the food packaging industry. The increasing product demand adds to the growing requirement of waterborne adhesives in the packaging industry. High flexibility and the greater economic benefits also add to the increasing popularity of waterborne adhesives in Europe.
Germany has the Largest Market
Europe is the second-fastest growing market, after the Asia-Pacific waterborne adhesive market. With the emergence of new industries and firms working in the research and development of waterborne adhesives, Germany has observed the highest growth in the market share. Germany is likely to expand at a fast growth rate, followed by the UK and Italy. Germany has exhibited the largest growth in the number of players working towards the research and development in the waterborne adhesive market. Therefore the German market leads in the Europe region with highest adoption rates and applications in the various markets.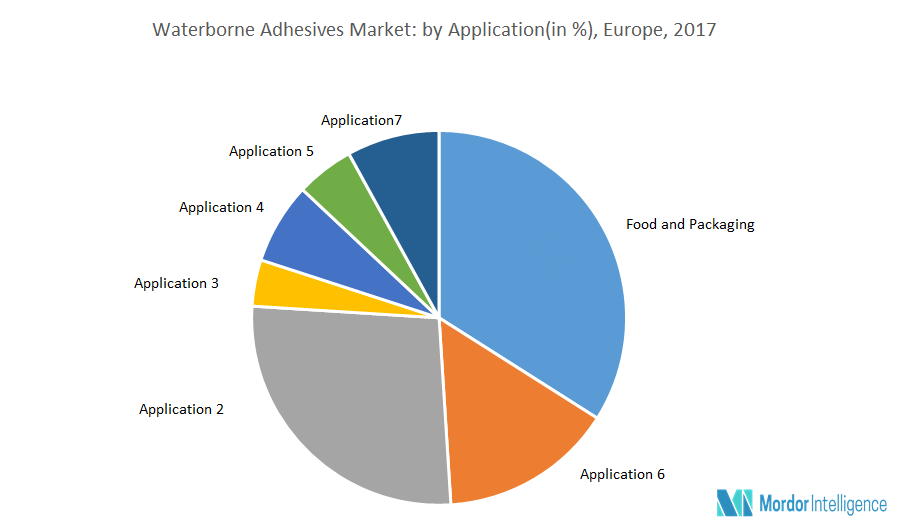 Notable Developments in the Market
Major Players: DowDuPont, 3M, Henkel AG & Co. KGaA, Wacker Chemie AG, Sika AG, and Bostik SA, among others.
Reasons to Purchase this Report
To understand the impact of end-user applications on the market
Analyzing various perspectives of the market with the help of Porter's five forces analysis
To identify the countries that are expected to witness the fastest growth during the forecast period
Identify the latest developments, market shares, and strategies employed by the major market players
3-month analyst support, along with the Market Estimate sheet (in Excel)
Customization of the Report
This report can be customized to meet your requirements. Please connect with our representative, who will ensure you get a report that suits your needs.
1. Introduction
1.1 Research Phases
1.2 Study Deliverables
1.3 Scope of the Report
2. Executive Summary
3. Market Insights
3.1 Plant Capacities
3.2 Indstry Value Chain Analysis
3.3 Industry Attractiveness - Porter's Five Forces Analysis
3.3.1 Bargaining Power of Suppliers
3.3.2 Bargaining Power of Consumers
3.3.3 Threat of New Entrants
3.3.4 Threat of Substitute Products and Services
3.3.5 Degree of Competition
4. Market Dynamics
4.1 Drivers
4.1.1 Food Contact is Allowed for Waterborne Adhesives
4.1.2 Environmental Friendly Substitute to Solvent-based Adhesives
4.2 Restraints
4.2.1 Poor Setting Speed of the Adhesives
4.3 Opportunities
4.3.1 Insulation and Soundproofing industries
5. Market Segmentation and Analysis (Market Size, Growth, and Forecast)
5.1 By Type
5.1.1 Acrylics
5.1.2 Latex
5.1.3 Polyurethane (PU)
5.1.4 Polyvinyl Acetate (PVA)
5.1.5 Ethylene vinyl acetate (EVA)
5.1.6 Others
5.2 By Application
5.2.1 Paper lamination
5.2.2 Book Binding
5.2.3 Wood Assembly
5.2.4 Bag manufacturing
5.2.5 Lap Paste for cans & Bottles
5.2.6 Flooring & Construction
5.2.7 Tapes
5.2.8 Others
5.3 By End-user Industry
5.3.1 Paper Board & Packaging
5.3.2 Woodworking & Joinery
5.3.3 Building & Construction
5.3.4 Transportation
5.3.5 Footware & Leather
5.4 By Polymer
5.4.1 Natural
5.4.2 Synthetic
6. Regional Market Analysis (Market Size, Growth, and Forecast)
6.1 Germany
6.2 United Kingdom
6.3 France
6.4 Italy
6.5 Spain
6.6 Rest of Europe
7. Competitive Landscape
7.1 Mergers and Acquisitions, Joint Ventures, Collaborations and Agreements
7.2 Market Share Analysis***
7.3 Strategies Adopted by Leading Players
8. Company Profiles (Overview, Financials**, Products & Services and Recent Developments)
8.1 3M
8.2 AdCo UK Limited
8.3 Arkema Group (Bostik SA)
8.4 Bostik SA
8.5 DowDuPont
8.6 Henkel AG & Co. KGaA
8.7 Huntsman Corp
8.8 Jowat AG
8.9 Paramelt B.V
8.10 Sika AG
8.11 Tesa SE (A Beiersdorf Company)
8.12 Wacker Chemie AG
List not exhaustive
9. Disclaimer
**Subject to availability on public domain