The Europe electronics adhesives market is estimated to grow at a significant CAGR during the forecast period, 2018-2023. Germany is expected to hold the largest share of the market, owing to the growing automotive sector in the region. Surface mounting is expected to hold the largest share of the application segment.
Increasing Demand from Automotive Industries to Propel Market Growth
Electronics applications in automotive include airbags, anti-lock braking system, black box, adaptive cruise control, drive by wire, satellite radio, emission control, traction control, automatic parking, in-vehicle entertainment systems, night vision, heads-up display, back up collision sensors, navigational systems, tire pressure monitor, and climate control. High-end electronics are being used in automotive to provide the drivers and passengers with in-car navigation, entertainment, and information.
European automotive sector has been witnessing a significant growth over the years. As per the statistics released by European Automobile Manufacturers Association, automotive production in whole Europe grew by 2.5% in the year 2016 in comparison to 2015, reaching a total of 21,696,968 vehicles.
There are numerous applications served by adhesives and coupled with the surge in the automotive sector, they are expected to propel the growth of the market.
Surface Mounting is Expected to Hold Largest Market Share
Surface mounting, also known as chip bonding, is the major application of adhesives in the electronics industry. It includes placing surface-mount-devices on beads or dots of UV curing adhesives and curing the adhesive to firmly as well as securely hold the device at the requisite place during any further processing of the electronic equipment being manufactured. The types of adhesives used in this application are mostly one-component systems made from acrylics, epoxies, or urethane acrylates, and they can be either electrically or thermally conductive. Europe owes the growth of the segment to the stable growth in its electronics sector.
Germany to Dominate the Market
The growth of the country's electronic adhesives is vastly attributed to the presence of one of the world's largest automobile production sector in the country, which accounted for approximately 35% of the European Union's automobile production in 2016. The growing consumer preference in the country for electronic vehicles to replace their older fossil fuel based vehicles is helping the automotive sectors in the country. Moreover, the country has been witnessing a significant growth in the electric vehicle sector, owing to the increasing environment-related concerns caused by traditional fuel vehicles. All these factors will ensure a robust growth in the electronics adhesives sector.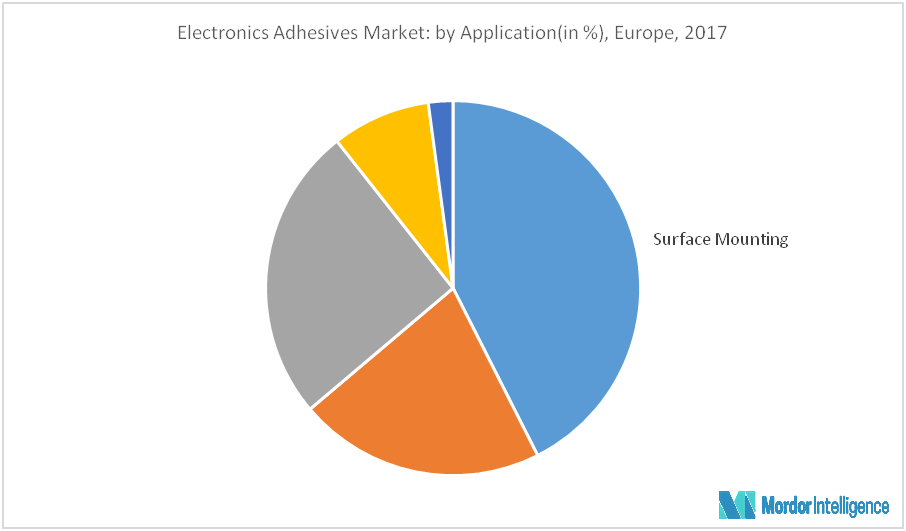 Major Players: Henkel, Sika AG, H.B. Fuller Company, and 3M, among others.
Reasons to Purchase this Report
To understand the impact of electric vehicles growth on the market
Analyzing various perspectives of the market with the help of Porter's five forces analysis
To understand the dominating application in the market
To identify the countries that are expected to witness the fastest growth during the forecast period
Identify the latest developments, market shares, and strategies employed by the major market players
3-month analyst support, along with the Market Estimate sheet (in Excel)
Customization of the Report
This report can be customized to meet your requirements. Please connect with our representative, who will ensure you to get a report that suits your needs.
1. Introduction
1.1 Scope of the Report
1.2 Research Phases
1.3 Study Deliverables
2. Executive Summary
3. Market Insights
3.1 Industry Value Chain Analysis
3.2 Industry Attractiveness – Porter's Five Force Analysis
3.2.1 Bargaining Power of Suppliers
3.2.2 Bargaining Power of Consumers
3.2.3 Threat of New Entrants
3.2.4 Threat of Substitute Products and Services
3.2.5 Degree of Competition
4. Market Dynamics
4.1 Drivers
4.1.1 Growing Demand from Automotive Industry
4.1.2 Growing Technological Advancements
4.2 Restraints
4.2.1 Regulations Related to the VOCs
4.2.2 Globalization and Operating Costs
4.3 Opportunities
4.3.1 Increasing demand for Electric Vehicle
4.3.2 Other Opportunities
5. Market Segmentation and Analysis (Market Size, Growth and forecast)
5.1 By Resin Type
5.1.1 Epoxy
5.1.2 Acrylics
5.1.3 Polyurethane
5.1.4 Others
5.2 By Application
5.2.1 Conformal Coatings
5.2.2 Surface Mounting
5.2.3 Encapsulation
5.2.4 Wire Tacking
5.2.5 Others
6. Regional Market Analysis (Market Size, Growth and forecast)
6.1 Germany
6.2 United Kingdom
6.3 Italy
6.4 France
6.5 Spain
6.6 Russia
6.7 Rest of Europe
7. Future of the Market
8. Competitive Landscape
8.1 Mergers & Acquisitions, Joint Ventures, Collaborations and Agreements
8.2 Market Share Analysis**
8.3 Strategies Adopted by Leading Players
9. Company Profiles (Overview, Financials**, Products & Services, and Recent Developments)
9.1 BASF SE
9.2 Bayer MS
9.3 3M
9.4 Bostik SA
9.5 Avery Dennison Corporation
9.6 DowDupont
9.7 Adco Global Inc.
9.8 Sika AG
9.9 Ashland Inc.
9.10 Illinois Tool Works Inc.
9.11 H.B. Fuller Company
9.12 RPM International Inc.
9.13 Adhesives Research Inc.
9.14 Beardow & Adams (Adhesives) Ltd
9.15 Chemence Inc.
9.16 Henkel AG
9.17 Huntsman Corporation
9.18 Pidilite Industries
9.19 Mapei Spa
9.20 Super Glue Corporation
9.21 Heng Ying Adhesive Co. Ltd
9.22 Ninghai Dingcheng Adhesive Co. Ltd
9.23 American Biltrite, Inc.
*List not exhaustive
10. Disclaimer
**Subject to availability of public domain