China is the largest electric vehicle market across the globe, and in 2017, around 777,000 new electric vehicles were sold in China, which was an increase of 53.3% from 2016. In addition, the country was the world's largest new energy vehicle (NEV) market, and almost all electric buses sold worldwide. Moreover, with more than 90% of sales from domestic OEMs, China is the largest producer of plug-ins. In 2018, NEV sales are expected to reach 920,000 units, counting passenger cars, 82% of them being Battery Electric Vehicle (BEVs) and 18% plug-in hybrid electric vehicle (PHEV).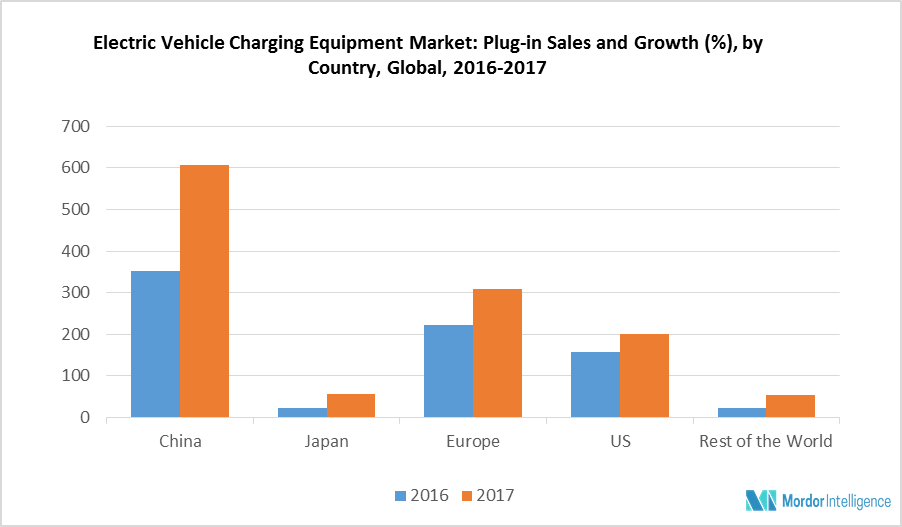 Until 2014, the electric vehicle charging equipment market in China was monopolized by the State Grid Corporation of China (SGCC) and the China Southern Power Grid (CSPG). Since 2006, SGCC has built 5,526 charging & battery swap stations and 40,000 charging piles across the country. In 2014, SGCC opened the market for constructing charging stations to private players, such as ABB Ltd, BYD Company Limited, Hong Kong EV Power Limited (EV Power), Tesla, Shanghai Xundao New Energy Technology, and Zhejiang Wanma New Energy Co. Ltd.
Favorable Government Policies - Accelerates Growth
The degrading air quality, due to the burning of fossil fuels, has enforced governments across the world, particularly in China, to reduce greenhouse gas emissions, by increasing the production of electric vehicles. In addition, the restrictions imposed by the Chinese government on the sales of conventional vehicles in urban areas and the huge government subsidy has influenced the rapid growth of EV market in China. The increasing sales of electric vehicles in China is expected to escalate the demand for electric vehicle charging equipment.
With the increasing push from industry players, like Volvo and Ford, toward green-car sector by 2025, coupled with the Chinese government's aim to set up 5 million electric vehicles (EV) on the road by 2020, the country is likely to create demand opportunities for the electric vehicle market in the coming years. Also, the National Development and Reform Commission directed most of the electric power companies to set up EV charging stations across the nation. In 2017, the country's electric power giant, the State Grid Corp. of China announced its plan to build 10,000 charging stations and 120,000 charging units, by 2020, in main cities, like Beijing, Shanghai, and Hangzhou. These factors and the increasing investments for the EV infrastructure is expected to propel the growth of the electric vehicle charging equipment market in China, which is projected to register a significant growth during 2018-2023 (the forecast period).
China has continuously focused on accelerating the growth of the EV market, by providing strong financial and non-financial support for the development of electric vehicles and charging infrastructure. In 2016, the exemptions from acquisition and excise taxes ranged between USD 5,000 and USD 8,000, which the local and regional authorities can complement within the limit of 50% of the central subsidies. Also, the government had allowed total or partial waivers from license plate availability restrictions for major cities in China. In addition, China reduced the subsidies for EVs by 20%, and local subsidies were cut in half compared to 2016, under the 2016-2020 new energy vehicle subsidy scheme and product technology requirements. These policies have influenced the growth of BEVs and PHEVs in the country.
DC Fast Charging - Holds Tremendous Opportunity
AC power charging is widely preferred over DC fast charging (DCFC) in China, as DCFC's are expensive and require specialized training to charge the vehicle; however, both public and private DC fast charging networks are expected to be adopted more rapidly in the near future, with the Chinese government working on cutting down the costs of DC fast charging networks and focusing on innovative solutions to contribute to the National Electric Mobility Mission plan of achieving 10% of the global charging points through fast charging by 2020.
Notable Developments in the Market
May 2017: Tesla China completed the expansion of supercharger network located in Beijing Huamao Center to 20 stalls, making it Asia's largest supercharger station.
Major Players: ABB Ltd, State Grid Corporation of China (SGCC), China Southern Power Grid (CSPG), BYD Company Limited, Hong Kong EV Power Limited (EV Power), Shanghai Xundao New Energy Technology, Zhejiang Wanma New Energy Co. Ltd, Tesla Motors Inc., among others
Reasons to Purchase This Report
Current and future China electric vehicle charging equipment market outlook
Analyzing various perspectives of the market with the help of PESTLE analysis
Segment that is expected to dominate the market
Identify the latest developments, market shares, and strategies employed by the major market players.
3 months analyst support, along with the Market Estimate sheet (in excel).
Customization of the Report
This report can be customized to meet your requirements. Please connect with our representative, who will ensure you to get a report that suits your needs.
1. Executive Summary
2. Research Methodology
3. Market Overview
3.1 Introduction
3.2 Market Size and Demand Forecast until 2023
3.3 Recent Trends and Developments
3.4 Government Policies and Regulations
4. Market Dynamics
4.1 Drivers
4.2 Restraints
4.3 Opportunities
5. Value Chain Analysis
6. PESTLE Analysis
7. Market Segmentation and Analysis (Overview, Market Size, and Demand Forecast until 2023)
7.1 By Vehicle Type
7.1.1 Battery Electric Vehicle (BEV)
7.1.2 Plug-in Hybrid Electric Vehicle (PHEV)
7.2 By End Use
7.2.1 Home Charging
7.2.2 Public Charging
7.2.3 Workplace Charging Station
7.3 By Charging Station
7.3.1 AC Charging Station
7.3.1.1 Level 1
7.3.1.2 Level 2
7.3.2 Level 3 (DC Fast Charge)
7.4 By Connector Type
7.4.1 CHAdeMO
7.4.2 SAE Combo CCS
7.4.3 Others (Tesla Supercharger, SAE J1772, IEC 62196)
8. Key Company Analysis* (Overview, Products & Services, Financials**, Recent Development, and Analyst View)
8.1 ABB Ltd
8.2 State Grid Corporation of China (SGCC)
8.3 China Southern Power Grid (CSPG)
8.4 BYD Company Limited
8.5 Hong Kong EV Power Limited (EV Power)
8.6 Shanghai Xundao New Energy Technology
8.7 Zhejiang Wanma New Energy Co. Ltd
8.8 Tesla Motors Inc.
9. Competitive Landscape
9.1 Mergers and Acquisitions
9.2 Joint Ventures, Collaborations, and Agreements
9.3 Strategies Adopted by Leading Players
10. Appendix
10.1 Contact Us
10.2 Disclaimer
*List Not Exhaustive
**Subject to availability on public domain