The Chinese adhesives & sealants market is expected to grow at a CAGR of 5.91% during the forecast period, 2018 to 2023. Growing consumers, hence growing demand from various end-user sectors of adhesives such as the building & construction sector, footwear industry, wood-working, and joinery industry is currently driving the Chinese adhesives and sealants market.
Rising Demand from Thriving Automotive and Electronic Sectors
China was the largest producer of automotive in 2017; it leads the SUVs market with the strongest growth in 2017. Used car sales have also grown significantly. As China is a manufacturing hub, the electronics market is also growing with innovations and advanced technology implementations. Electronic products such as smartphones, OLED TVs, and tablets have the highest growth in the market in the consumer electronics segment. Over the past few years, adhesives have become a prime technology component in automotive applications, as they are continuously replacing traditional bonding or adhesion methods. The increasing population, growing GDP, and increasing purchasing power of middle-class population are driving the demand for new, lightweight, and fuel-efficient vehicles, and less or no VOC-emitting adhesives in the automotive sector, which is driving the adhesive market as well.
Paper, Board, and Packaging Industry Dominates the Market
This industry accounts for 43% of the total adhesive industry by revenue in China. Adhesives are widely used in paper bonding, owing to their physical properties. Their applications range from corrugated box construction and lamination of printed sheets, to packaging materials used for all types of consumer products. Therefore, the overall market for adhesives & sealants is expected to have higher growth in the country as its end-user industries are showing growth. Out of paper, board, and packaging, packaging accounts for the largest market for adhesives and its applications include composite containers and tubes, bags, carton side seam & closures, cups, labels, remoistenable products, specialty envelopes, foil laminates, films, disposables (non-woven), and corrugated board. The packaging industry is growing rapidly in China. This growth is attributable mainly to the strong demand for food & beverage packaging. The rising demand for fast-moving consumer goods among growing China's strong middle class has been a major boost to the market. The Chinese adhesives market is anticipated to grow with the growth of the packaging industry.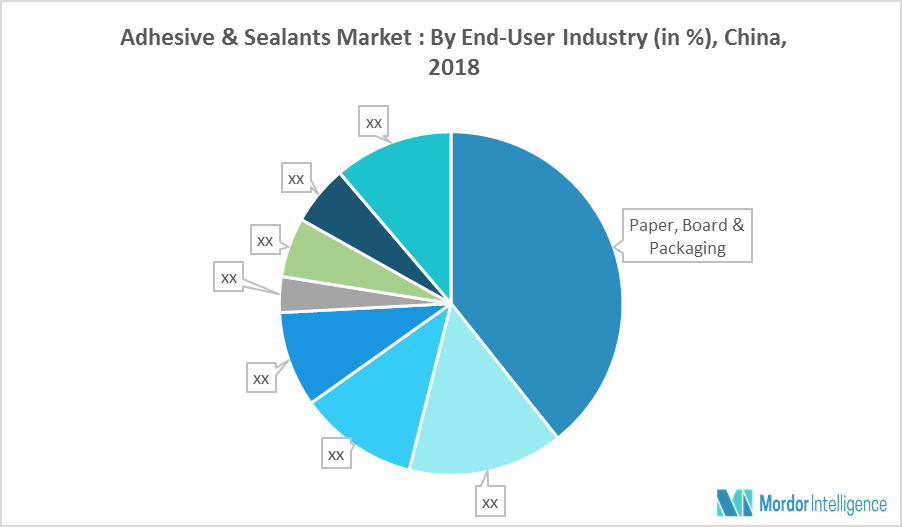 Notable Developments
December 2017: Henkel Huawei sells Epoxy Mold Compound factory and Hysol brand to Chinese conglomerate.
Major Players: HB Fuller, Henkel, DowDuPont, 3M, Sika, Wingtai (Zhongshan) Co., Ltd, Jiangsu Guojiao Chemical Technology Co., Ltd, Hubei Huitian New Materials Co. Ltd, and Shanghai KangDa New Materials Co., Ltd, among others.
Reasons to Purchase the Report
To understand the impact of end-user applications on the market
Analyzing various perspectives of the market with the help of Porter's five forces analysis
To understand the dominating technology in the market
End-User Industry i.e. expected to witness the fastest growth during the forecast period
Identify the latest developments, market shares, and strategies employed by the major market players
3 month analyst support, along with the Market Estimate sheet (in Excel)
Customization of the Report
This report can be customized to meet your requirements. Please connect with our analyst, who will ensure you to get a report that suits your needs
1. Introduction
1.1 Research Phases
1.2 Scope of the Market
1.3 Study Deliverables
2. Executive Summary
3. Market Insights
3.1 Industry Value Chain Analysis
3.2 Industry Attractiveness - Porter's Five Forces Analysis
3.2.1 Bargaining Power of Suppliers
3.2.2 Bargaining Power of Consumers
3.2.3 Threat of New Entrants
3.2.4 Threat of Substitute Products and Services
3.2.5 Degree of Competition
3.3 PESTEL Analysis
4. Market Dynamics
4.1 Drivers
4.1.1 Increasing Adoption of Low-cost Flexible Packaging
4.1.2 Rising Demand from the Thriving Automotive and Electronics Industries
4.2 Restraints
4.2.1 Government Regulations Regarding VOC Emissions
4.2.2 Other Restraints
4.3 Opportunities
4.3.1 Growing Popularity of Bio-based Alternatives
4.3.2 Growing Consumer Population of End-user Industries
5. Market Segmentation and Analysis (Market Size, Growth, and Forecast)
5.1 By Technology
5.1.1 Water-borne
5.1.1.1 Acrylics
5.1.1.2 Polyvinyl Acetate (PVA) Emulsion
5.1.1.3 Ethylene Vinyl Acetate (EVA) Emulsion
5.1.1.4 Polyurethane Dispersions (PU)
5.1.1.5 CR (Chloroprene Rubber) Latex
5.1.1.6 Others
5.1.2 Solvent-borne
5.1.2.1 Styrene-Butadiene Rubber
5.1.2.2 Chloroprene Rubber
5.1.2.3 Poly Acrylate (PA)
5.1.2.4 Polyurethane
5.1.2.5 Others
5.1.3 Reactive
5.1.3.1 Epoxy
5.1.3.2 Modified Acrylics & Cyanoacrylates
5.1.3.3 Silicone
5.1.3.4 Polyurethane
5.1.3.5 Anaerobic
5.1.3.6 Others
5.1.4 Hot-Melts
5.1.4.1 Ethylene Vinyl Acetate
5.1.4.2 Synthetic Rubbers
5.1.4.3 Others
5.1.5 Others
5.2 Sealants by Product Type
5.2.1 Silicone
5.2.2 Polyurerthane
5.2.3 Acrylic
5.2.4 Polyvinyl Acetate
5.2.5 Others
5.3 By End-user Industry
5.3.1 Building & Construction
5.3.2 Paper, Board, and Packaging
5.3.3 Woodworking & Joinery
5.3.4 Transportation
5.3.5 Footwear & leather
5.3.6 Healthcare
5.3.7 Electronics
5.3.8 Others (Textile, Consumer Goods, etc.,)
6. Competitive Landscape
6.1 Mergers & Acquisitions, Joint Ventures, Collaborations, and Agreements
6.2 Market Share Analysis**
6.3 Strategies Adopted by Leading Players
7. Company Profiles (Overview, Financials**, Products & Services, and Recent Developments)
7.1 3M China Limited
7.2 Beijing Comens New Materials Co., Ltd
7.3 Bostik China Co. Ltd
7.4 DowDuPont
7.5 Evonik Industries
7.6 Guangdong Xinzhan New Chemical Material Co., Ltd
7.7 H. B. Fuller (China) Adhesives Co. Ltd
7.8 Henkel (China) Co. Ltd
7.9 Hubei Huitian New Materials Co. Ltd
7.10 Huntsman China Ltd
7.11 Jiangsu Guojiao Chemical Technology Co., Ltd
7.12 PPG Management (Shanghai) Co. Ltd
7.13 Shanghai KangDa New Materials Co., Ltd
7.14 Sika (China) Ltd
7.15 Wacker Chemie AG
7.16 Wingtai (Zhongshan) Co., Ltd
7.17 WuXi Wanli Adhesion Materials Co., Ltd
*List not exhaustive
8. Disclaimer
**Subject to availability on public domain