The Asia-Pacific Veterinary Healthcare market is expected to register a CAGR of around 10% during the forecast period, 2018 to 2023. Veterinary medicines are associated with treatment, diagnosis, and prevention of diseases among animals. It covers a variety of animal species, both, in domestic and wild.
Risk of Emerging Zoonosis
The growing meat consumption, especially for chicken and pork, is adding to the exposure of dangerous foodborne pathogens. The E. coli and Salmonella infections cause serious diseases among people, and can even be fatal at times, which is possible during the intensive production systems. Moreover, there is a risk of emerging new strains of influenza viruses, due to the long distance transportation of animals. The farms are often in the same area, with a concentration of confined animals, which potentially enhances the risk of avian influenza transferring to pigs. The reassortment of the virus can lead to new strains and cause infections among humans. Further, these farms increase the risk of spreading and mixing of virus strains. Intensive farm practices are causing the risk of emergence of these bacteria in the food, as stressed animals become more susceptible to infection. The risk from zoonotic diseases is fuelling the market for Asia pacific veterinary healthcare. Inter-Governmental Organizations and the food production are making reforms to ensure health by the process of surveillance and vaccination, investing in R&D, and transfer with respect to vet health.
Additionally, advanced technology leading to innovations in animal healthcare is also a factor responsible for the growth of Asia-Pacific veterinary healthcare market.
Use of Counterfeit Medicines
Counterfeit prescription pharmaceuticals are a growing trend, even though the governments are taking appropriate actions to counter this Counterfeit prescription pharmaceuticals for veterinary, but these are not stopping in fact these are increasing every year. This is increasing more in the Asia-Pacific countries and it is widely known as a health risk and a serious concern to health officials, private companies, and consumers and animals.
In Asian countries, counterfeit drugs are rising in the countries, such as china, India, and other Asian countries, and they comprise as much as 70% of the drug supply and have been responsible for thousands of deaths in some of the world's most impoverished nations, according to the World Health Organization (WHO). This use of counterfeit medications is showing a huge impact on the Asia-Pacific veterinary healthcare market.
Also, lack of infrastructure and funding is restraining the growth of Asia-Pacific veterinary healthcare market.
The Vaccine Segment is expected to lead the Market
The Vaccine segment in Asia-Pacific veterinary healthcare market is expected to register a healthy CAGR during the forecasted period due to the presence of good healthcare infrastructure in the country and also increasing awareness among the people is helping the market growth.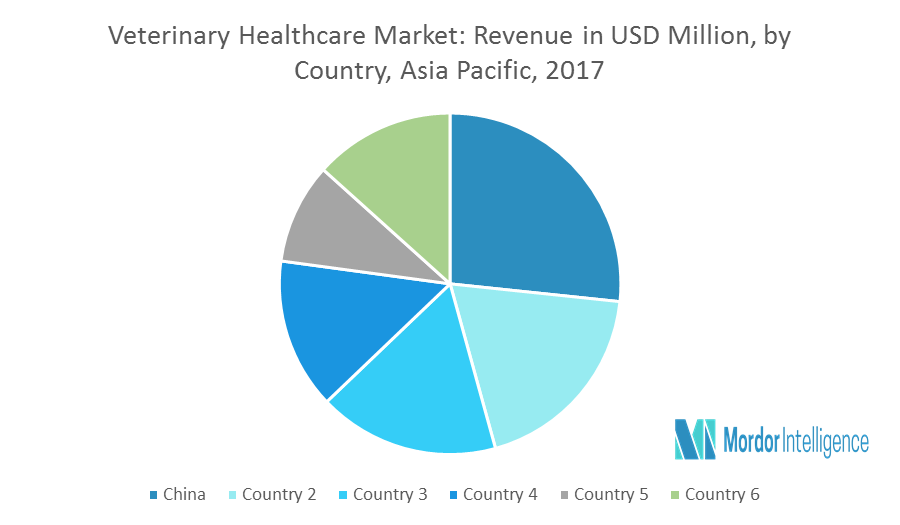 Key Developments in the Market:
June 2018: Elanco Animal Health Introduces New Respiratory PRRS Vaccine a modified-live respiratory vaccine, which is effective in the reduction of porcine reproductive and respiratory syndrome (PRRS), respiratory form, in piglets two weeks or older.
–Major Players: Bayer healthcare, Boehringer Ingelheim, Ceva Animal Health, Inc., Elanco (Eli lilly and Company), Merck Animal Health, Virbac Corporation, and Zoetis animal healthcare, amongst others.
Reasons to Purchase this Report
Current and future Asia-Pacific veterinary healthcare market outlook in the developed and emerging markets
Analyzing various perspectives of the market with the help of Porter's five forces analysis
The segment that is expected to dominate the market
Regions that are expected to witness fastest growth during the forecast period
Identify the latest developments, market shares, and strategies employed by the major market players
3-month analyst support, along with the Market Estimate sheet in excel
Customization of the Report
This report can be customized to meet your requirements. Please connect with our representative, who will ensure you to get a report that suits your needs
1. Introduction
1.1 Market Definition
2. Research Methodology
3. Executive Summary
4. Key Inferences
5. Market Overview
5.1 Current Market Scenario
5.2 Porters Five Forces
5.2.1 Bargaining Power of Suppliers
5.2.2 Bargaining Power of Consumers
5.2.3 Threat of New Entrants
5.2.4 Threat of Substitute Product and Services
5.2.5 Competitive Rivalry Within the Industry
6. Drivers, Restraints, Opportunities, and Challenges Analysis (DROC)
6.1 Market Driver
6.1.1 Advanced Technology Leading to Innovations in Animal Healthcare
6.1.2 Risk of Emerging Zoonosis
6.2 Market Restraint
6.2.1 Lack of Infrastructure and Funding
6.2.2 Use of Counterfeit Medicines
6.3 Opportunities
6.4 Challenges
7. Market Segmentation
7.1 By Product Type
7.1.1 By Therapeutics
7.1.1.1 Vaccines
7.1.1.2 Parasiticides
7.1.1.3 Anti-infectives
7.1.1.4 Medical Feed Additives
7.1.1.5 Others
7.1.2 By Diagnostics
7.1.2.1 Immunodiagnostic Tests
7.1.2.2 Molecular diagnostics
7.1.2.3 Diagnostic Imaging
7.1.2.4 Clinical Chemistry
7.1.2.5 Others
7.2 By Animal Type
7.2.1 Farm animal
7.2.1.1 Ruminants
7.2.1.2 Swine
7.2.1.3 Poultry
7.2.1.4 Others
7.2.2 Companion Animal
7.2.2.1 Dogs & Cats
7.2.2.2 Horse
7.2.2.3 Others
7.3 By Geography
7.3.1 Asia-Pacific
7.3.1.1 China
7.3.1.2 Japan
7.3.1.3 India
7.3.1.4 South Korea
7.3.1.5 Australia
7.3.1.6 Rest of APAC
8. Competitive Landscape
8.1 Mergers and Acquisition Analysis
8.2 Agreements, Collaborations, and Partnerships
8.3 New Products Launches
9. Key Players
9.1 Bayer healthcare
9.2 Boehringer Ingelheim
9.3 Ceva Animal Health, Inc.
9.4 Elanco (Eli Lilly and Company)
9.5 Merck Animal Health
9.6 Virbac Corporation
9.7 Zoetis animal healthcare
**List Not Exhausitive
10. Future of the Market